Taimu Shakuhachi Flute | Art of Emptiness
---
The composition below is called "Woodmaster" and it is written for solo Taimu shakuhachi and dedicated to Ken Mujitsu LaCosse, designer and maker of Taimu. Taimu is a wide-bore, natural bamboo variant of shakuhachi, the root-end bamboo flute from ancient Zen Buddhism. This flute itself calls into question rigid lines or divisions between masculine and feminine, sacred and secular: it comes from Zen, but it also comes from the dirt (the root-end was indeed roots in the ground, part of its rhizomial roots network underground); we play meditation pieces on it but I play gutbucket blues riffs on it too. It is smooth yet coarse in its textural possibilities; its physical exterior is rigid and long — phallic — yet characterized primarily by its interior space which is 100% empty and accepting/open (we use no parts of any kind on these flutes — they are not constructed, they are crafted through subtraction); the air stream all flute players use has a focus and penetrating quality yet — it is invisible, etheric as is the air itself. We dissolve dichotomies with this instrument, yet the sacred masculine has certainly fueled the making and playing of this flute and this song specifically.
The topic of Sacred Masculine immediately brought to mind focused concentration and long-term dedication to a single-minded pursuit. I thought of my recently gone-on-to-glory collaborator and flutemaker Ken Mujitsu LaCosse. I had just premiered a solo work inspired by and dedicated to him a month before he departed in June 2019. He was midway through crafting individual flutes from a batch of 20 large pieces of bamboo from our friend and harvester Kodama who lives up in the forested hills of western Nagano prefecture in Japan. Ken had that rare combination of ease, humbleness, high quality work and a persistent, ongoing evolution of a craft in which he became completely absorbed. He kept at this from the late 1980's until 2019 and luckily for me, I love playing his flutes just as much as he loved making them.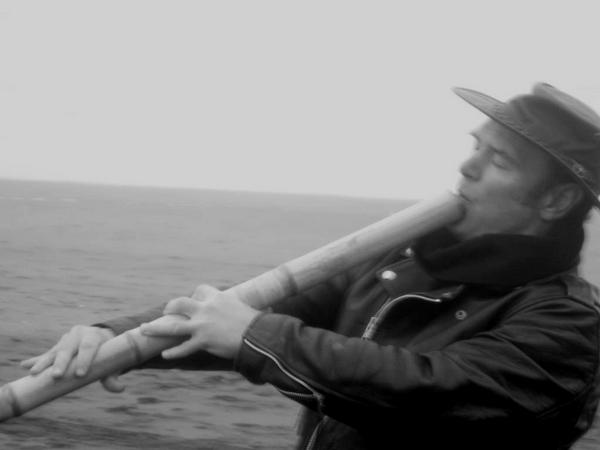 Ken and I had parallel goals and matching skills when it comes to a certain kind of obsessively focused concentration, extended in time and space and aimed at physio-spiritual skill-building, guided by instinct and enthusiasm needed both to make and to perform these flutes.
TAIMU AND SACRED MASCULINE
This particular big flute I sometimes call the baritone brother of shakuhachi, the Barry White of the bamboo flute world, the Bigfoot of flutes in general. Due to the wider bore and the pure bamboo surfaces inside (in contrast to the ji paste lacquer which flutemakers often use to rebuild and retune flutes) as well as on the blowing edge (which is often replaced with animal horn or another denser material). Taimu themselves have a kind of "bigger, tougher and rougher" ethos and aesthetic than standard or more common diameter shakuhachi flutes and, beyond that, most flutes of any type all over the world. Ken was fond of describing them as having an appealing "foghorn glow." I always hope listeners can dive into the tone as much as possible and see what this earthy, mysterious nature-timbre might have to say to you specifically.
MY WORK
Founder/composer of Black Earth Shakuhachi School, I have forged my own eclectic style as a professional woodwind performer since 1989. A licensed shakuhachi master, prize-winning composer and former bass clarinet performance innovator, I am actively merging the threads of Watazumido, Eric Dolphy and Son House on jinashi (all-natural) and Taimu (bass) shakuhachi. Since 2009, I have generated and released an entire body of new songs and compositions for these large, raw and rare bamboo flutes: mukyoku (27 pieces for Taimu) and Shakuhachi Unleashed (48 virtuosic songs of rock, Zen, blues, metal and more). In 2019, we used the arrival of this latest (and last) batch of flutes to launch a Taimu ensemble, which debuted in October of that year at the InterMusic SF Music Day event under the name Cornelius Boots & The Heavy Roots Shakuhachi Ensemble. In 2022, we will be reborn as The Wood Prophets, with an album coming out in June.
To see over 200 live performances and improvisations in nature (many with trees, a few with goats), go to my YouTube channel.