The idea for this project arose from a common belief that music has the power to break down boundaries and overcome distances between people. No matter whether people come from different geographic, political, economic, spiritual or ideological backgrounds, music had the universal power to transcend and unite us as one human race. And with this truth firmly fixed in our minds, we set out to share it with the world.
We built a mobile recording studio equipped with all the same equipment used in the best studios, and traveled to wherever the music took us. As technology changed, our power demands were downsized from golf cart batteries to car batteries, and finally to laptops. Similarly, the quality with which we were able to film and document the project was gradually upgraded from a variety of formats—each the best we could attain at the time—finally to full HD.
One thing that never changed throughout the process was our commitment to create an environment for the musicians in which they could create freely, and that placed no barriers between them and those who would eventually experience their music. By leading with that energy and intent everywhere we traveled, we were given access to musicians and locations that are usually inaccessible. In this respect, the inspiration that originally set us on this path became a co-creator of the project along with us.
– Mark Johnson, Director
---
Since its inception, Playing for Change has touched millions of hearts, leading to the creation of The Playing for Change Foundation, now committed to building schools and educating children is the arts of music and dance globally. Playing for Change very kindly answered some questions for Kosmos about both the foundation and the music project.
Kari Auerbach | Since the day that Mark Johnson encountered Roger Ridley, a street musician and decided to record him singing 'Stand By Me,' has the way you choose musicians to record changed? How do you identify and approach musicians for your songs and videos?
J. Marie Jones, Director of Communications, Playing For Change | One of the great things about Playing For Change is that there is no set system for how we determine which artists we're going to record; the process is very organic. Many of the musicians we meet and record are through word of mouth or other musicians we've met along our journey, and sometimes we simply stumble across amazing musicians while we're traveling.
Kari | What is your collaborative process with the musicians?
J. Marie | Our Songs Around The World can take months or even years to produce. The team begins with a basic track of the song they wish to record. Often, they'll start with a click or rhythm track, other times they'll start with the guitar; it really depends on the song and the artists they're working with. They have each musician wear headphones and play while listening to that track. After recording each musician, they add them to the track and then the subsequent musicians they record are listening to the previously recorded musicians. So it starts with a simple track and builds as they record different musicians around the world. At the end, they edit the video and audio to create the best sound and look possible.
Kari | Are the songs chosen?
J. Marie | Much like how we determine the artists we're going to record, there is no set system for determining the songs we record either. We like to record songs of all different genres that will resonate with people. It could be a song selected by one of our producers, one of the musicians, or even a partner we're working with for that particular video. For instance, we've had the pleasure of recording Keith Richards from The Rolling Stones on a Song Around The World version of his song, "Words of Wonder," and we recently worked with The O'Jays on their song "Love Train" which was in partnership with the non-profit organization Turnaround Arts.
Another example is when our producers stumbled across a musician in the streets of Salvador, Bahia in Brazil while waiting for a cuica player they'd already scheduled to record. They invited the musician over and, after learning about what we do, he agreed to play a song while the crew waite. This was the beginning of "Rasta Children" around the world.
Kari | With 20% of the profits from the recordings going to your foundation for music education, where are some of the places that your schools are educating young people? What does the curriculum look like in each place? 
J. Marie | We started the Playing For Change Foundation in 2007, a separate 501(c)3, to give back to the communities of the musicians we've met along our journey. The first program was established in Gugulethu, South Africa, and we now have a total of 15 music programs in 11 countries—Argentina, Bangladesh, Brazil, Ghana, Mali, Mexico, Morocco, Nepal, Rwanda, South Africa, and Thailand. Each school is very special. It's about us working with the community, not coming in and telling the community what they should or shouldn't do. More than 2000 students attend free classes in dance, instrument instruction, languages, and music theory, all taught by qualified, local teachers. In addition to the music component, the foundation also works with partners to provide the basic needs of the communities such as primary education, humanitarian aid—clean water, solar power, food, medicine, clothes, book, and school supplies— as well as tools and training to support micro-enterprise.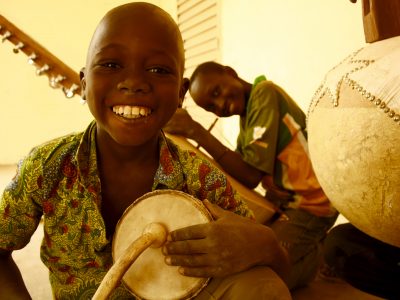 Kari | In the documentary, 'Playing For Change: Peace Through Music', many of the musicians shared their hopes for peace, unity, tolerance, and healing for the world. When David Broza (Israeli multi-platinum folk singer-songwriter) spoke, his words suggested to me that it may be transformative for the participants as well as the listener/ audience. Have artists reported back on how the process was for them? Do you think the process is therapeutic or transformative for the individual musicians themselves?
J. Marie | Our mission is to inspire, connect, and spread peace to the world through music. By bringing together musicians from all walks of life, religions, political parties, races, genders, etc., we are showing that we are stronger together than we are apart. There is beauty in our differences, and we shouldn't allow differences to divide us. Playing For Change is a global family and has created so many great relationships that wouldn't have existed otherwise. Take the PFC Band for example; you have 10 musicians from 10 different countries that tour the world together playing music on one stage. To fully answer this question, I'll share a few quotes from some of the musicians:
"Playing For Change is proof that music transcends geography, race, age, culture and any other barriers which can be used to identify and separate people. Despite our all being in different corners of the world, everyone on the song participated in a beautiful conversation where we all spoke the same language. It was really powerful and extremely beautiful." — Warren Haynes
"Playing for Change, man all my life I've been putting out love, but not like that."— Grandpa Elliott
"It was just fantastic! It's an amazing experience and that changed my world." — Char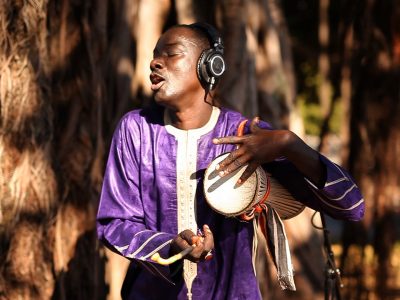 Kari | The foundation has expanded from music education to building schools to educate students; are there new territories and challenges that the foundation hopes to engage in the future?  
J. Marie | The foundation's first music program was actually a school that our team and the community in Gugulethu built from the ground up. Currently, we have a mixture of schools and programs that we support. Right now our resources are focused on the programs we currently have, but we hope to continue expanding to be able to serve even more students and communities.
Kari | Speaking for the Playing For Change music project as well as the foundation, what does the term 'global citizen' mean to you, and what responsibilities, as well as rights, are implied in global citizenship?
J. Marie | To us, there is only one race, and that is the human race. I think the term Global Citizen holds the same to be true as we are all brothers and sisters no matter where you were born or live. We all have the same hopes, dreams, needs. We all want to be loved and to give love. And we should all be able to do and have these things. No one is more entitled to any of these things than the next. We have to stop letting the fear of differences lead us instead of leading with understanding.
Kari | How can people become involved? In addition to donating, buying the music, the documentary, the merchandise on the website, can people come forward with their skills and participate?  If so, what skill sets are in short supply? Editing? Camerawork? Musicians? Engineers? Teachers?
J. Marie | Beside the ways you mentioned, the best way to get involved with the movement is to follow us and share us on social media (Facebook, Instagram, Twitter, Youtube) and to become a PFC Member which helps us continue our mission. If you'd like to get further involved we welcome you to email us at info@playingforchange.com.
Music from Playing for Change can be purchased here.

More Music From Playing for Change