NEW PODCAST | PREMIERE EPISODE
Deschooling Dialogues with Alnoor Ladha
In Conversation with Gustavo Esteva


the way out is in

with JO CONFINO and BROTHER PHAP HUU
This podcast series is aimed at helping us to transcend our fear and anger so that we can be more engaged in the world in a way that develops love and compassion.


the beautiful question
with SCOTT LENNOX
As you listen to these intentionally brief podcasts, you can allow yourself the gift of Stillness, out of which Clarity will naturally arise. You will then be listening to the wisdom of your innate self.


kosmos live!
PREPARING FOR PROFOUND CHANGE
This podcast series, Preparing for Profound Change, explores the shifting global landscape. Economic collapse, climate chaos, political upheaval – these may seem like forces to fear, but in fact offer us deep opportunities for transformation.


sounds of sand
Science and Nonduality
Sounds of SAND is a podcast from Science and Nonduality which contemplates and reveres the beauty, complexity, pain, and great mystery that weave the infinite cycles of existence.


deschooling dialogues
with ALNOOR LADHA
A collaboration between Culture Hack Labs and Kosmos Journal, the first season explores some of the basics of deschooling, including decolonization practices, alternatives to traditional education, discoveries from the edges of social justice movements, and the deep time lessons of Indigenous wisdom and knowledge systems.
"I would not want to miss this moment on Earth. It is wondrous to me. Who would want to miss being here during this incredible moment of being human on this planet?" – Joanna Macy
Enhanced Membership | Coming Soon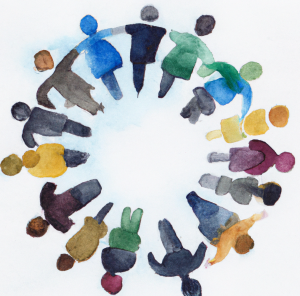 You can join Kosmos at no cost. However, for those wishing to support the mission of Kosmos and participate at a deeper level, enhanced membership offers engagement with the Kosmos Community through intimate Circles, courses, gatherings and invitations to meet with Kosmos writers and artists.
Kosmos accepts no advertising or sponsored content. What you see is offered freely. Create an enhanced membership to engage more deeply with Kosmos.
Explore our full archive - 23 years of articles, freely available, organized by topic and Kosmos edition. Read most previous editions in their entirety.
23
YEARS OF CONSCIOUS
PUBLISHING
14,000+
MEMBERS IN
OUR COMMUNITY
1,900
ARTICLES IN
OUR OPEN ARCHIVE
Our Thought Partners
Influencers in our ecosystem who inspire us daily.
"In addition to examining and changing our personal inner lives and our cultural values, the conscious activist is challenged to apply this wisdom to strategies that affect the manifest world. We balance action and reflection, working with a fierce heart at all scales from the personal, to local, to national, to global and even kosmic levels."
— Nancy Roof, Founder of Kosmos