Finding Ben | Mental Health, Justice, and Healing
---
Warning: This article includes content related to the topic of suicide. If you or a loved one may be at risk, please click HERE.
excerpt from a memoir in progress…
Blond, blue-eyed Jacques Verduin was a tall, handsome man with a chiseled jaw. He had dedicated his life to rehabilitating "lifers" at San Quentin, many of whom had killed or been involved in violent crimes or criminal gangs. He had worked with hundreds of men for many years, and I was intrigued by his work.
I was the managing editor of the San Francisco Chronicle when I met Jacques in 2003, and it was not easy to get clearance for journalists to enter San Quentin. I didn't want to jeopardize Jacques' credibility or his program by coming into one of his group sessions. Prisons don't like journalists coming in under any circumstances. But, when I left the Chronicle a few years later, I got in touch with Jacques. Since I was between jobs, I felt I could go into the prison as an observer and friend.
Walking through the prison yard with Jacques that first day, I felt like I did when I was a foreign correspondent entering a world where I did not have control of anything, often surrounded by hard men with guns. In those places, and in San Quentin that morning, I was flying on trust.
No guards walked with us. We were simply two white guys in civilian clothes walking through a yard filled with hundreds of prisoners, nearly all of them Black, wearing baggy blue prison pants and light blue shirts, lounging, playing basketball and tennis, running around a track, lifting weights. Except there were towers where you could see guards silhouetted holding automatic rifles and more guards with clubs, mace, and handcuffs strolling around or watching on the edge of the yard. 
It was a clear, warm day with a gentle breeze. The Marin County sky was cobalt blue, and Mt. Tamalpais stood etched sharply less than 20 miles away.
I had been in a prison once, captured and flogged by the Uganda Army in 1982. I was released after three days. It was a long three days. Now I am passing through security clearances to visit Jacques' program called "Guiding Rage Into Power" (GRIP).
Guiding Rage Into Power (GRIP)
The GRIP Program at San Quentin State Prison has been developed from over 17 years of working with thousands of prisoners. GRIP offers an in-depth journey into the participants' ability to understand and transform violent behavior, track and manage strong impulses, and replace these behaviors with an attitude of emotional intelligence. The year-long program enables men to "turn the stigma of being a violent offender into a badge of being a non-violent peacekeeper." 
Every stereotype I had about inmates was ringing in my head. Those stereotypes were shattered by the three dozen men who sat waiting in a classroom for Jacques and their weekly class to begin.
When I walk in, the men are seated in folding chairs in a large circle. Many say hello and welcome. Others just stare. I sit on a folding chair and shake the hands of the men on either side of me and say hello. I have taken the plunge and am not calm.
I'm introduced as Jacques' friend. Jacques explained to me that the essence of this program was the power of the group—the honesty of every man—confronting not only what they had done to get into prison with a life sentence, but going deep into their own trauma and the trauma they had created in their victims, families, and themselves. Witnessing and feeling others' honesty, tears, and pain in the circle was a catalyst for trust that allowed them to share with intimacy their own pain and vulnerability.
I do not say a word. As the three-hour session nears its end, an inmate with black, long hair tied in a ponytail turns to me and asks, "So what's your story?" 
I am not prepared for the question. I am surprised and silent for a hard, long moment. Much of that day has been a discussion of trauma in their lives or trauma their actions had created in others. They have spoken of sadness, loss, and grief with a clarity of honesty I have rarely heard and was not expecting to find or hear in a prison.
I too have unresolved trauma, but I do not have the strength to release it in front of this group of strangers inside the walls of a prison that is their home. I thank them for letting me into their circle. I tell them I hope to come back again.
The man who asks, "So, what's your story," is a convicted murderer. He has been in prison for over 35 years. His name is Robin, and he is Comanche Chippewa. Twelve years later, after being released from San Quentin, he will play his exquisite tribal flute, crafted in his cell at San Quentin, at my son's memorial service and help Ben's soul, spirit, energy cross over. 
***
After that first visit in 2007, I went back to that group week after week. I felt that I was learning more about spirituality and honesty and healing from those men than I had ever learned or witnessed before.
But I stopped going in early 2008 after I took the job as executive director at the Center for Investigative Reporting (CIR). I did not feel comfortable going back while I was running an investigative reporting journalism organization. I did not want to jeopardize all that Jacques was doing.
Ten years later, I had left CIR, and I met Jacques by chance at a 2018 Christmas party. I was happy to see him, but as soon as I shook his hand and looked at him, I knew something was different. His face was taut, and he was a bit rigid. I asked if he was OK, and he told me he had Parkinson's disease. Before the night ended, I asked Jacques if I could return to San Quentin. He said yes. 
I started going to San Quentin again a few times a month and sat in a class that graduated in the spring of 2019.
My 26-year-old son Ben took his life a few weeks after that graduation.
One of the first people outside my family I reached out to was Jacques. I needed to hear his comforting voice and words of solace and support. I also wanted to go back to San Quentin yet again. I wanted to sit in a circle with Jacques' next class. Inside a prison, I had found a grace, serenity, and honesty that transcended those walls and the crimes of the men there.
I had come to understand that for me and the group of men I had shared the circle with, the prison, at least for a brief time, was a sacred space. A place where a deep common bond between men was forged. Forged by sharing stories of pain and trauma. And by sitting in that honest fire of vulnerability, the healing heat of trust, and even love, could bathe you.

The group I became part of, a few weeks after Ben died, came to be called "Tribe 864." They arrived at that number on one of the first days when each man was asked how many years he had been incarcerated. As each answered, another inmate tallied the numbers on a white board. The total for this group of men was 864 years.
Again we sat in a circle on folding chairs. The meeting again began with a meditation. Jacques introduced me as his friend. 
At some point on that first day, I was asked to speak and introduce myself. I did so and then told the story of Ben's suicide, not leaving out any details. 
I talked about how I lived in fear Ben would take his life or hurt others, and of my deep, powerful, loving, and frighteningly painful codependent connection to him. I told them Ben left with love, grace, and serenity and that he left behind notes that were helping me.
I breathe deeply, sigh, and sob as I tell the story.
When I finish, there is silence in the circle. Most of the men are Black. There are a few whites and Hispanics and two Asian men—men who want to be in this circle. There is a long waiting list to get into GRIP.
An older inmate raises his hand. He is heavyset and rumpled in his prison blues. I learned later that he has been in prison over 40 years for homicide. He is an elder.  
"I got something," he says. I am taking notes because I want to remember. "Thank you, Robert. My condolences. I thank you for sharing your story and Ben's story."
There is a long pause.
"I have never told this to anyone," he says. "But when I was a boy, my favorite uncle, a very successful man I saw as my father, took his life. No one knows why. He was successful, and I and my family have lived in shame my entire life that a man we loved committed suicide. He jumped off the bridge too. I feel I must share this now to honor my uncle and Ben. I thank you Robert, and I thank Ben."
I breathe deeply, several times, and feel disbelief and wonder at what I hear. I have an empty feeling, but a sense of calm begins to enter me.   
 A younger inmate, a powerful, handsome man, maybe 35 raises his hand.
"I got something," he says. "Thank you, Robert. I have never shared this either. I tried to kill myself, more than once. My mother was an addict, and she died of a drug overdose when I was 13. I had so much rage. I was so angry at her, so ashamed, and so alone. I honor Ben's death and his courage."
Others speak. My body is glowing with a warmth I do not understand. I am hugged and thanked by men in the group when the session ends. I feel drained and grateful.
The next week I return. I print out copies of Ben's "Note of Gratitude" and give a copy to each man and the mentors, also prisoners, who go through the GRIP program. I do not speak that week but listen to stories of rage, grief, and trauma.
The following Friday I return again. Before the meeting starts, men come to me. They want to talk about the "Note of Gratitude." They had read Ben's words and the words allowed them to know Ben and feel his soul.
Some recited passages to me.
One man said he burst out in tears when he read what Ben wrote about the Underground Railroad and told me he felt a connection with Ben and understood his empathy and compassion. He told me that through Ben, he saw and felt the moss growing on trees again for the first time in decades. Then he gave me a pink plastic bracelet that had these words on it: "Hope. Faith. Love." I hugged him and thanked him. I put it on my left wrist. He told me he had gotten it during suicide prevention week at the prison.
Another man said he had put Ben's words in the shrine in his cell and read sections of it every morning to his cellmate, and it had become part of their morning meditation. 
Sitting in my hard folding chair in a circle of men clad in their blue prison clothes, I feel a spiritual grace, euphoria, and wonder that Ben's suicide and his words have placed me on a journey and in a place where I feel no shame, only a joy birthed in grief. And I realized that these men have become my teachers.
Jacques explains to me that to be entrusted with someone's despair is a great privilege. "Something happens that is very important. You are intimate, vulnerable, worthy of your suffering. To be entrusted models a way of being. It is honest, not hidden, and it gives others the opportunity to do the same. It is sacred work. It shows itself only to those willing to see it."
Ben Rosenthal | excerpt from his Note of Gratitude
"How many mornings did I wake to see the light of the sun coloring the beautiful world around me? 
How many breaths of fresh air gave me another chance to feel alive, and well again? 
Surely, I can remember those moments in greater clarity than I can the days of gloom, but how nice it would be, to be able to forget those days of gloom. 
Yet despite the challenges of my past, and the lingering effect they may have on me today, I still find great value in them, for they have opened my mind to the importance of gratitude at all times, despite the moment you may be in. 
Despite the value in those days, how nice it would be, to have perfect clarity on the best days, and simply forget the rest. 
How nice it would be to see the moss growing on the north side of the trees as I walk through the forest, green beds of hope pointing me in the direction of light and happiness, just as the legends of the Underground Railroad have said to be true." 
---
The Benjamin von Sternenfels Rosenthal Grant for Mental Health Investigative Journalism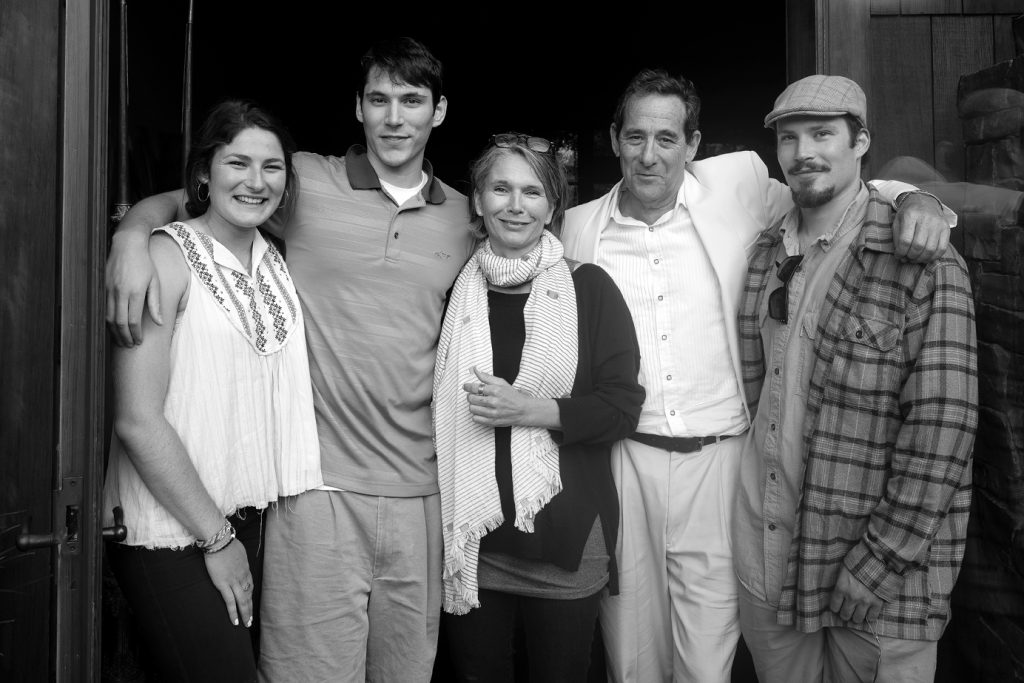 The Benjamin von Sternenfels Rosenthal Grant was launched in 2020 by the Rosalynn Carter Fellowships for Mental Health Journalism in partnership with Reveal from The Center of Investigative Reporting. The award honors Ben von Sternenfels Rosenthal, a writer, athlete, devoted son, brother, and friend to many from the San Francisco Bay area. He took his life in August 2019. 
The grant is awarded annually to a gifted journalist who proposes an in-depth investigation into a mental health topic of their choice. 
With this grant, the Rosenthal and von Sternenfels families support powerful stories that help dismantle stereotypes, remove stigma, and humanize those who live with mental illnesses.
---

Interview with Grant Recipient, Brett Sholtis
Brett Sholtis is the health reporter at NPR affiliate WITF in Harrisburg, Pennsylvania, and has been selected as a 2021–2022 Fellow under the Benjamin von Sternenfels Rosenthal Grant for Mental Health Investigative Journalism.

His work often focuses on mental health policy and how it interacts with policing and prisons. His stories have been broadcast and published by NPR, Kaiser Health News, The Philadelphia Inquirer, Spotlight PA, and public radio stations across Pennsylvania. He's discussed his work on All Things Considered, the NPR Politics Podcast, WITF Smart Talk, and elsewhere. READ MORE
Kosmos | What drew you to journalism about mental health and particularly your focus on law enforcement encounters with mentally ill individuals? 
Brett | Like many people who come to this kind of work, I had my own story to tell. My younger brother, Bryan, is someone who lived with a serious mental illness. He started to have symptoms when he was a teenager, and he really struggled with a mood disorder over the span of about the next 12 years, made worse by some drug and alcohol use. And ultimately, he died at age 27 from complications of that drug use.
I think we really get it wrong a lot of times by failing to understand what is happening with people. I spend a lot of time looking at records that I've acquired from county jails. And those county jail records show people at some of their worst moments. It's important to remember that a significant number of people in county jails have not yet been convicted of a crime, and some never will be. It's also important to remember that many people in county jails have already been diagnosed with a serious mental illness. 
But when you actually get a chance to talk with someone who's been in prison or to talk with their family, what you often learn is that trauma has informed and affected a lot of the choices that they've made. A lot of it is sexual abuse trauma, as well.
Kosmos | Why do we sometimes see very hyper-aggressive approaches to policing toward people that are already known to be mentally ill or in situations where it becomes apparent during the encounter? 
Brett | What I learned is that police are trained to consider public safety at large. They're thinking about an entire community who also could be at risk from that person. So I think it's important to understand the police frame of reference. 
But I think it is one of the areas where we have work to do. For one thing, we're one of the most heavily armed civilian populations in the world. So when you have so many firearms in the hands of people, I can understand why police are oftentimes on edge. All that said, what I find is that the police tendency to demand compliance from someone is a model that goes grievously wrong when dealing with someone who is in crisis, or psychotic, or has an acute mental health condition.
We're talking about people who may be experiencing auditory or visual hallucinations, who may be highly paranoid, and whose experience of what is happening around them may be fundamentally different from what the police and others are seeing. So to use a model that demands compliance and responds to noncompliance with force is a recipe for escalation and for potentially fatal encounters between law enforcement and mentally ill people. 
Kosmos | Tell me a little about your methodology.
Brett | I filed requests with 62 counties that have county jails or prisons to look at a sampling of use of force records over a three-month span at the end of last year. The records tell a story of prison staff working with very limited resources to try to address a person who is having acute psychiatric concerns. And it's also the story of what has become truly normalized in prisons—pepper spray, shower, restraints, forced medication, back to the cell, and an occasional visit from a psychiatrist.
So if we're going to house people who have acute disorders, we have to have the conversation that asks: Who are they? Are they patients? Are they inmates? The prison system says they are inmates first. The minute that designation is put on someone, the minute they go to prison, they go from being someone who is potentially a patient who needs help to being an inmate who must comply. 
Kosmos | This tension between compassion and authority plays out across our societies, including the rise of authoritarianism. What are some of the pathways to improve the situation?
Brett | I think it's tough. We can begin to ask fundamental questions, like, why is it that so many people with a military background are drawn to policing rather than people from a different background like education or psychology. I have a military background, and I often think about that. There's not necessarily an inherent relationship between being a police officer who's protecting the public at large and being a military soldier whose job it is to vanquish the enemy on the field of battle!
I think it was Ron Bruno from Crisis Intervention Teams who said to me one time when we were talking about police responses to people with serious mental illness, "Part of the challenge is the culture because you actually have people who don't even see mental illness as an illness. They just see it as a weakness."
I grew up in a Catholic family, and I was given the idea of all people having value. At the same time, it was a culture where, for men, there wasn't a very rich suite of acceptable ways to be, especially around a lot of other men. Anger was acceptable, aggression was acceptable. There were not a lot of other emotions and feelings that would be acceptable.
And I've felt society change so much since my childhood. Even just as a white cisgender straight man, I've benefited so much from being part of a society where a lot of the ideas around gender and sexuality, for example, have become so much freer.
Note: Brett Sholtis' 2020 story detailing the treatment of a prisoner with schizophrenia helped get her moved from county jail to a psychiatric facility. That story and related work were recognized with several Radio Television Digital News Association Regional Edward R. Murrow Awards. 
Donate to the Benjamin von Sternenfels Rosenthal Grant for Mental Health Investigative Journalism.