Joy and Value of Connection to Place and Community
---
As a nearly fifty-year-old woman, I find myself in my middle-aged years living on the same plot of land on which I was raised, eight acres of mostly forested earth, with the Tucquan Creek running through. The Tucquan dumps into the Susquehanna River nearly three miles down creek from my home. Here I am surrounded by the dark waxy leaves of the rhododendron & mountain laurel, solid oak, wild holly, hemlock, tulip poplars, tasty birch, shedding sycamore, maple and a few willows my father planted before he died. We have our fair share of the aromatic honeysuckle, imposing stinging nettle, ubiquitous poison ivy, ferns, trailing pine and carpet like club moss scattered throughout the land. Even as I write the words of the native vegetation that surrounds my home, I feel a sense of warm belonging. The house is one we built when I was a kid, gathering stones out of the creek while my father did the masonry work to cover the house with the limestone of the River Hills of southern Lancaster County, Pennsylvania. The house is personal, unique and has family history, but I have to confess that the land is what holds me to this place.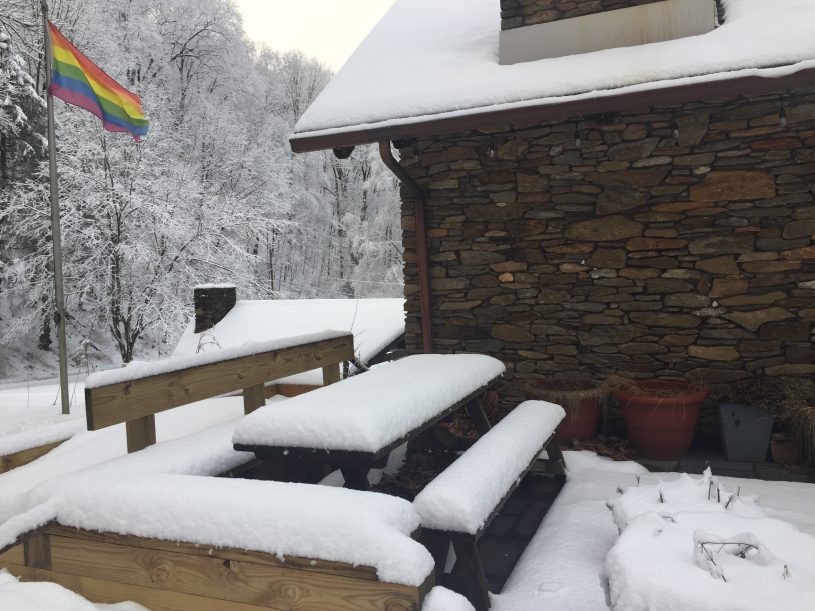 I wonder how we got so accustomed, as human beings, to being separated from the earth. How we can live surrounded by concrete, work in buildings with pumped in air, and practice habits of buying food wrapped in plastic from the grocery store, with little thought to how our lifestyles affect the living earth, which provides for us all of life. I've spent time living in cities, in Washington DC, where it was hard to find large swaths of the earth to touch. But it was possible. I found myself drawn to the city's cemeteries, my daily running destinations, and the beautiful National Arboretum, sometimes even the Mall, where we could experience huge plots of grass surrounded by trees. But home, for me is where I can smell the rotting leaves from thousands of trees each autumn, and where I watch the snow bells pop up through the dirt and clay along the creek in early February.
As much as I dream of being a recluse in this idyllic spot I call home, I am involved in the lives of many people. I find that the community in which my family, a husband and two teenage children, lives and moves is also rooted in this connectedness to the earth.
My circles of friends create a web of folks who use their voices and their hands to protect our drinking water, to plant trees, to grow local foods, and buy locally raised meats. My human relationships lend support to me, and a sense of belonging to this world in a different way. A way in which we understand our interdependence.
A way in which we remind one another of our impact on one another and the earth as a whole. A way in which we know we are in this together and together we can create not only a sustainable future for generations to come, but we have committed that we will work for our shared and needed regenerative future.
I have had the honor of hearing the Dalai Lama speak a number of times. His recipe for world peace has become a mantra for my life, and goes something like this. You begin with being at peace in your own heart. Then you work to be at peace with every person with whom you come in contact. In so doing the peace moves outward. But world peace doesn't come by jumping outside of yourself and deciding that you, as an individual, are going to change the world by something outside of yourself. It all starts in your own heart, the only thing you can control.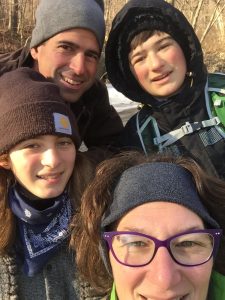 We, living in the world today, are in desperate need to regrow human connections with one another, and to the local environment in which we dwell. I am not suggesting we can't travel the globe. But the work we do to build relationships at the local level, the work we do to regenerate the land within our local vicinity is the work that this generation must be about. It is the work of recovery from the exploitation of people and of land, often at the hands of the corporate minority, and often for the benefit of their increased wealth and power. We need to commit to building healthy communities, where we put aside greed and selfishness, while balancing self-care with other-acceptance and other-giving. Starting in our own hearts, in our own backyards, in our own neighborhoods. The delight in these relationships, and the joy in this work not only warm the heart, but restore our world.
I most value our local communities, where we acknowledge our symbiotic relationships to the earth and to one another.
I will spend the rest of my life working to restore and nurture these healthy relationships, beginning in my own body, on the land in my own community, and then extending out to everyone with whom I interact. I will strive to restore right relationships to the places of earth I touch, for the sake of creating a more loving, accepting, and enduring community for generations to come.
This goal and mission, I believe, is at the core of what it means to be human. And embracing humanity in this way is a great wealth we all have at our fingertips.