The Butterfly Man in the House of Pain
---
Sitting in the large waiting room of a crowded medical facility, I got to witness just how quickly the human spirit can be moved to dance in us when magic is afoot. 
I remain deeply grateful for the amazing help I receive from the Veteran's Administration hospitals in Dallas and Fort Worth. And yet I have to admit that for years, I've thought of my visits there as going to the House of Pain. After each visit, witnessing the immense suffering of so many people gathered in one place, the aftermath of war that is all but invisible to most of America, it takes me a day or so to fully recenter myself emotionally and mentally. I suppose that's normal. 
The Dallas VA is especially crowded. It's too-small parking lot often feels downright predatory. The hallways are congested with people coming and going to the waiting areas of their clinics or the lab for blood work or the pharmacy to receive their medications or to other areas for specialized treatment. In each place, the waits can be long and the feelings of tension or depression or fear or resignation that show in the faces of men and women receiving care there are impossible to miss.
Not long ago, I watched something altogether miraculous rise up in the middle of the suffering.
While waiting for my appointment with the pharmacist, I watched a man roll into the area on his motorized scooter. He had an American flag hanging from a stick that he had attached to the basket on the front of it. And he wore a hat that was every bit as colorful. 
After checking in at the desk, he parked himself on one side of the middle aisle, where he caught the attention of two little girls who looked to be perhaps four and six. The older one had been watching him for a while as her mother combed her hair and pulled it back into a large puff at the back of her head. The way the girl carried herself, it was more than easy to envision her as a young African princess. She looked that noble. When the man in the scooter noticed her watching him, he crooked his finger in a silent invitation. She looked up at her parents who gave their consent. And then she and her younger sister walked over to him wearing looks of curiosity.
I couldn't hear what he was saying, but it was apparent that he was offering something. Whatever it was, the girls smiled and nodded in response.  That negotiated, he reached into the basket on the front of his scooter and pulled out a small piece of white paper which he folded in half. Then he took out a pair of scissors and began cutting, deftly moving the paper with one hand and the scissors with the other in practiced coordination. As he did, the girls were completely spellbound. They stepped closer raptly watching his every move. In less than 60 seconds, he unfolded the paper and handed the younger girl a butterfly with a small folded paper handle below it. As soon as she touched it, she began twirling in pirouettes, rising and falling as she held the butterfly above her head.
I watched her for a moment. And when I looked back at him, he was finishing the second one, which he handed to the older girl who immediately started dancing with her sister, turning and leaping into the air, the two of them floated between the rows of waiting people who seemed unable to look away. It occurred to me that those two girls weren't merely dancing with the butterflies.  For that moment, they had become butterflies, at least in their own heart-minds. As I looked around, their parents were smiling broadly. The man on the scooter was grinning and many of the people in the waiting room were smiling and laughing. I had the most joyful tears in my eyes.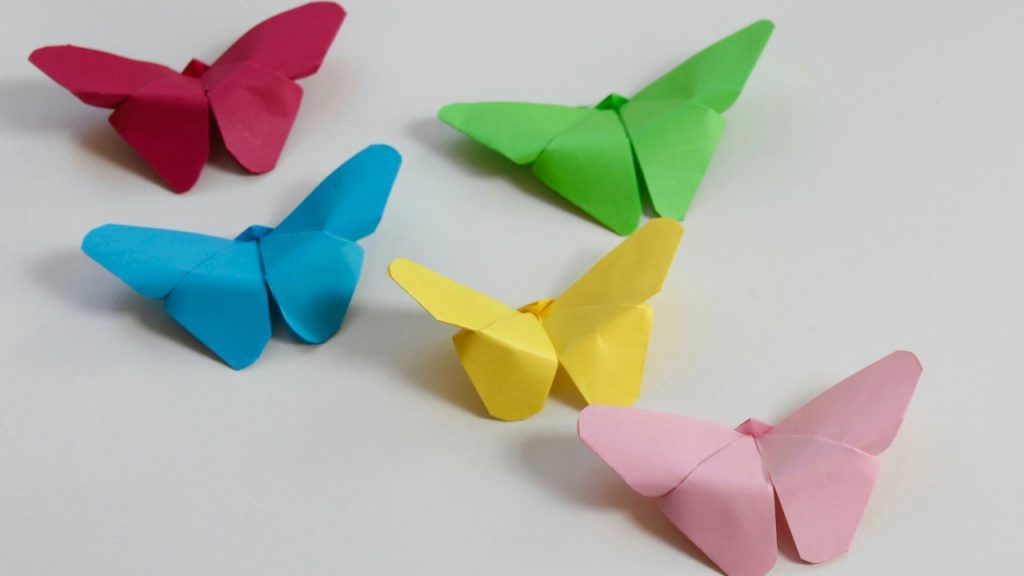 After a couple of minutes and without being prompted to do it, the girls went back and thanked the man again. After that, he wheeled across the room and passed where I was sitting. I introduced myself and asked him to tell me about himself. He told me that he had a crushed spine from a work-related accident and that he was in constant pain. He also said that he had developed an inoperable tumor deep in the center of his brain that made it impossible to read or make sense of letters on a page. And yet it seemed to me that he was one of the happiest and most present people I'll ever meet. He told me that he refused to give into his disabilities. And he said that his purpose in life, his way of coping with suffering, was to make other people smile by cutting out and giving away little paper butterflies. And of course, giving his presence with them in that moment. 
Sitting that day in the House of Pain and Healing, I discovered that something magical and transforming can happen when one heart is open enough to reach out and touch another heart in just the right way. 
Considering that, here are three Beautiful Questions:
Can you remember a specific time when you were surprised by someone's heartfulness, knowing that they wanted nothing in return?

Can you remember a specific time when you offered that to someone else? 

And if you are going to offer such heartfulness to yourself today, what exactly would you do? 
I'd love to hear what arises as you consider those three questions. 
You can find Scott's free podcasts and guided relaxation audios by searching for The Beautiful Question in the podcast section of iTunes or on SoundCloud, or by visiting the podcast page of his website at scottlennox.com. If you find them useful or encouraging, please feel free to share them. Visit: http://www.thebeautifulquestion.com/