Rama Mani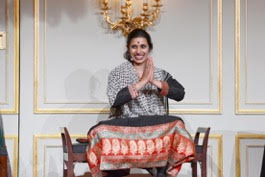 Dr. Rama Mani is an expert in international peace and security, a poet and performance artist. Based on her extensive experience in governance and security over the past 25 years, she developed 'Theatre of Transformation' as an innovative vehicle to address critical global crises. Theatre of Transformation is the art of creative co-evolution. It engages people of diverse backgrounds to transform crises into opportunities by harnessing their individual and collective humanity, creativity and wisdom.
Dr. Mani is a Councilor of the World Future Council, and a Senior Research Associate at the University of Oxford's Centre for International Studies. With Prof. Jean Houston and Dr. Scilla Elworthy, Rama is the Co-Founder of 'Rising Women, Rising World', a global initiative of women leaders committed to 'co-create a world that works for all'.
She serves on the Jury of the 'Alternative Nobel Prize' and as a Senior Advisor to the Right Livelihood Award Foundation. Dr. Mani was formerly the Executive Director of the International Centre for Ethnic Studies (Sri Lanka). She was Africa Strategy Manager for Oxfam GB, working with policy makers and grassroots communities across Africa's warzones to develop innovative policy responses to war economies and humanitarian crises. She served as Director of the Global Peace and Security Course at the Geneva Centre for Security Policy, and Senior External Relations Officer of the Commission on Global Governance.
Since 1992, Rama has partnered with and advised United Nations agencies. She serves on several international boards including the Advisory Board of NATO Defence College, and UNESCO-CISH International Centre for Human Sciences (Lebanon). She authored "Beyond Retribution: Seeking Justice in the Shadows of War" (Polity/Blackwell: 2002/2007) and co-edited "Responsibility to Protect: Cultural Perspectives from the Global South" (Routledge: 2011).
In 2013, Rama received the Peter Becker Peace Prize in Germany for the combined impact of her scholarship and peace activism. Rama has a Ph.D. in Political Science from the University of Cambridge, an M.A. in International Affairs from Johns Hopkins University. She is a French national and overseas citizen of India, where she grew up.
www.TheatreofTransformation.org, www.youtube.com/RamaManiNews
Article
Time for a Paradigm Change We aren't here just to make a little noise. We're here to change the paradigm. […]