Kosmos Call for Essays and Other Works
FDR and the Four Freedoms |
Deadline, November 15, 2022
President Franklin D Roosevelt was a central figure in world events during the first half of the 20th century. Commonly known as FDR, he guided the US through the Great Depression of the 1930s and most of World War II. At the start of that war, FDR delivered a speech to the United States Congress filled with vision and hope.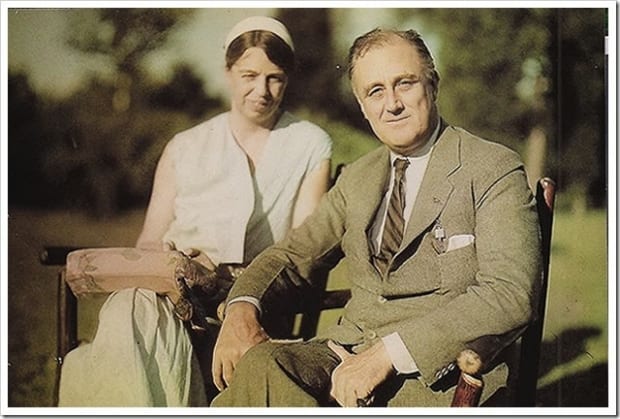 His message to the world was that all people must have freedom of speech, freedom to practice any or no religion without government interference, freedom from want, and freedom from fear. His wife, Eleanor Roosevelt advanced this vision and helped to enshrine the Four Freedoms in the Universal Declaration of Human Rights, an important part of the United Nations human rights system and one of the most widely translated documents in the world. The Declaration has inspired numerous international human rights treaties and declarations, and has been incorporated into the constitutions of most countries since 1948.
When we see what is happening in the world, we realize that our failure to secure the Four Freedoms has caused enormous suffering. Our goal for the Winter edition of Kosmos, is not to merely look back at the Four Freedoms, but reignite their vision.
What do the Four Freedoms mean to us today? What role should they play in our ideas about governance? Are they a firm foundation for a positive future? What made FDR such an effective leader and where are such leaders to be found today?
We welcome your essays (up to 1200 words), poems, art and other works focused on leadership or one of the Four Freedoms:
Freedom of Speech
Freedom of Religion
Freedom from Want (for basic human necessities)
Freedom from Fear (of aggression by governments, armies or police)
Please review our submission guidelines carefully before you submit a work.
For all essays, please use the submission form at the bottom of the page. NOTE: It is only possible to upload one document per submission.
For poetry, see the specific guidelines below.
For all other media and artist inquiries, contact info@kosmosjournal.org directly, with the subject line: 'Submission Inquiry'.
General Guidelines for all Works
We strongly advise you to become acquainted with Kosmos Quarterly before you submit something. Editorial preference is given to present or past Members. Memberships are available starting at $0.
Please submit all works as Word documents with a file name "Full Name_Title," and include your email address in the header of the document.
Do not send us your first draft. As Robert Graves contends, "There is no such thing as good writing. Only good rewriting." Always send your best version.
Be sure to proof your work before you hit "Send." Punctuation, spelling, and grammar are all important elements of a written work.
We accept simultaneous submissions, but please inform us if your work is accepted elsewhere. We will be happy for your success.
If your work is accepted by Kosmos, you agree to grant us the right to publish in the Quarterly and its derivative works, as well as Electronic Archival Rights. At publication, all rights revert back to you. If your work subsequently appears in print or online, you agree to give credit to Kosmos Quarterly. We agree to contact you for permission to reprint your work.
Upon acceptance, we'll ask you for a brief bio (50 -100 words) and a JPEG photo to accompany your work.
Check our website and newsletter for updated themes and deadlines. We will make every effort to respond within one month after a deadline. If you haven't heard from us by then, feel free to contact us.
We are not a paying publication at this time, but we are pleased to welcome you to the Kosmos family, with the guarantee your work will be read and appreciated by an international audience.
Poetry Submission Guidelines 
Kosmos Quarterly is looking for thoughtful, well-crafted poems that will inspire and delight our readership. We tend not to accept inspirational verse or rhyming poetry unless the latter is done artistically (See Frost's "After Apple-Picking" for what we mean by "artistic.")
On occasion, we solicit poems we love, but all unsolicited pieces must be previously unpublished. By "unpublished" we mean either in print or online formats, including your personal website or blog.
We are now publishing poetry not only in our quarterly journal, but in the newsletters between each issue. Take a look at our seasonal Gallery of Poets and our Featured Poet in past newsletters to see the types of poetry we prefer.
Please send 1-3 single-spaced poems per issue in a single Word document (doc or docx). Please use Times Roman, 12-pt. and left justify poems with a one-inch margin. Format the file name as "Your Full Name and Title" of the first poem. Include your email address in the header of the document. Limit each poem to a maximum of 50 lines. Start each poem on a new page.
Kosmos Quarterly acquires first North American serial, electronic, and archival rights. All rights then revert to the author after publication. Please acknowledge Kosmos Quarterly in any subsequent printing of your work.
PLEASE SUBMIT YOUR POEMS DIRECTLY TO CMARTIN@KOSMOSJOURNAL.ORG
Do not send us a biography until we request one upon acceptance. We want to read your submission based on its own merits, not past accomplishments. However, in your email please tell us in a sentence or two how your piece(s) supports our current theme. When we make decisions, we consider the best and most creative approaches to that theme.
Once your poetry appears in Kosmos Quarterly, please skip at least three issues before submitting again. For example, if you were published in a Winter issue, please wait for the call for the next Winter issue to submit again.
Thank you for entrusting your work to us. We will read it with gratitude and respect.
Greetings from Carolyn Martin, Poetry Editor
Before you submit to Kosmos Quarterly – or to any journal – here is some writerly advice gathered from decades of experience:
Ask accomplished poets who are conversant with the art and craft of poetry to critique your poems. Friends may be complimentary, but they may not understand what makes a good poem. Kosmos receives many lovely poems that are deeply heartfelt, but are filled with abstractions and generalities that don't work in poetry. Poetry uses compelling, compact language filled with images, rhythms, and sounds that surprise the reader by showing rather than explaining. Surprise me with work that is fresh and well-crafted.
Read, read, read accessible contemporary poets like Billy Collins, Ellen Bass, Jericho Brown, Ada Limón, Jo Harjo, and Mary Oliver. Read them not only for enjoyment, but for insights into how they craft their poems. Ask yourself, "How does this poet get from a poem's beginning to its end? How do they use images to express emotion? How do they shape their poems on the page? How effective are the rhythms and sounds of each line and stanza? As the renown dancer Martha Graham reminds us, "Inspiration is for amateurs. The rest of us get to work." Good poets get inspired and then they get to work on crafting their poems.
Pay attention to our guidelines and follow them carefully. It does not make a good first impression when guidelines are overlooked. 
Every publication and poetry editor has an aesthetic bias whether they admit it or not. So please don't be offended if Kosmos says it is not the right home for your work. I've been submitting poetry for years and have learned that what doesn't fit one publication is perfect for another. It's all about making sure you are sending your best work and finding a home that will embrace it.
If you're not collecting rejections, you're not doing the work of a poet: sending your work out into the world. In the past, I've challenged myself to "earn" 100 rejections every year. This year I finally exceeded that goal: 112 publications declined my submissions! However, I'm happy to say that another 51 accepted my work. In any event, that's a lot of submitting!
Thanks again for trusting us with your work. We are honored that you did!
AGAIN, PLEASE SUBMIT YOUR POEMS DIRECTLY TO CMARTIN@KOSMOSJOURNAL.ORG
For all essays, please use the submission form, below. NOTE: It is only possible to upload one document per submission.
For all other media and artist inquiries, contact info@kosmosjournal.org directly, with the subject line: Submission Inquiry.