Kosmos Call for Essays & Other Works |

 

New Spirit, Wise Action
Our Fall theme, New Spirit, Wise Action, explores the relationship between spirituality and activism. Can we be effective activists without a stable spiritual practice? And can we call ourselves 'spiritual' if we fail to stand up for what we believe to be just and true? How does this dynamic manifest in our communities, at work, our places of worship, and in governance? How would you describe 'new spirituality' or 'new activism'?
We invite you to submit an essay up to 1000 words, a poem, or other artwork, in response to any of these prompts or what New Spirit, Wise Action means to you. We will choose several works to publish in our Quarterly and on our website.
Deadline: August 18, 2019 | Use our Submission Form for written works. For all other media, contact info@kosmosjournal.org directly, with the subject line: Submission Inquiry. Before you submit, please take a look at our guidelines below.
General Guidelines for all Works
We strongly advise you to become acquainted with Kosmos Quarterly before you submit something. Although many Quarterly articles are available without a subscription, editorial preference is given to Subscribers. Subscriptions are offered 'in the gift', for as little as $5.
Please submit all works as Word documents with a file name "Full Name_Title," and include your email address in the header of the document.
Do not send us your first draft. As Robert Graves contends, "There is no such thing as good writing. Only good rewriting." Always send your best version.
Be sure to proof your work before you hit "Send." Punctuation, spelling, and grammar are all important elements of a written work.
We accept simultaneous submissions, but please inform us if your work is accepted elsewhere. We will be happy for your success.
If your work is accepted by Kosmos, you agree to grant us the right to publish in the Quarterly and its derivative works, as well as Electronic Archival Rights. At publication, all rights revert back to you. If your work subsequently appears in print or online, you agree to give credit to Kosmos Quarterly. We agree to contact you for permission to reprint your work.
Upon acceptance, we'll ask you for a brief bio (50 -100 words) and a JPEG photo to accompany your work.
Check our website and newsletter for updated themes and deadlines. We will make every effort to respond within one month after a deadline. If you haven't heard from us by then, feel free to contact us.
We are not a paying publication at this time, but we are pleased to send you a subscription to Kosmos Quarterly for one year with the guarantee your work will be read and appreciated by an international audience.
Poetry Submission Guidelines
Kosmos Quarterly is looking for thoughtful, well-crafted poems – both in traditional and experimental forms – that will inspire and delight our readership. On occasion, we solicit poems we love, but all unsolicited pieces must be previously unpublished. By "unpublished" we mean either in print or online formats, not including your personal website or blog.
Please send 1-3 single-spaced poems per issue in a single Word document in Times Roman, 12-pt.  Format the file name as "Full Name_Title," and include your email address in the header of the document. Limit each poem to a maximum of 50 lines. Start each poem on a new page.
Once your poetry appears in Kosmos Quarterly, please skip one issue before submitting again.
Thank you in advance for sharing your work with us.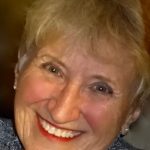 Greetings from Carolyn Martin, Poetry Editor
We are thrilled to add new and established poets to the community of essayists, musicians, videographers, visual artists, teachers, healers, and visionaries who enrich our publication and the world. We'll be posting poems both in the Quarterly and on our website so poets have ample opportunities to have their voices heard.
Before you submit, here is some writerly advice gathered from decades of experience:
Ask poets who are conversant with the art and craft of poetry to critique your poems. Friends may be complimentary, but they may not understand what makes a good poem.
Every publication and poetry editor has an aesthetic bias whether they want to admit it or not. So please don't be offended if Kosmos Quarterly says it is not the right home for your work. I've been submitting poetry for years and have learned that what doesn't fit one publication is a perfect for another. It's all about making sure you are sending your best work and finding a home that will embrace it.
If you're not collecting rejections, you're not doing the work of a poet: sending your work into the world. I've challenged myself to "earn" 100 rejections this year. (I made it to 87 last year!)
Happy submitting – and we are honored that you would entrust your work to the Kosmos Quarterly.
For all written works, please use the submission form, below. NOTE: It is only possible to upload one document per submission. For all other media, contact info@kosmosjournal.org directly, with the subject line: Submission Inquiry.