Board of Directors
Nancy B. Roof, Chairman

Nancy Roof, Ph.D. is the founder of the award-winning Kosmos Journal: Global Transformation in Harmony with All Life, and President of  Kosmos Associates, Inc. The mission of Kosmos is to identify and support systemic economic, political, social, environmental and personal transformation leading to the new planetary civilization. She is actively involved in the founding of the Global Commons movement with James B. Quilligan of the Global Commons Trust. Nancy won the 2009 Images and Voices of Hope award for journalism as a tool to inform, inspire and engage individual and collective participation in a global shift to higher-level thinking. In 2004, Kosmos was nominated by Utne for excellence. Her testimony on the human dimension of the United Nations was distributed to the US President and Congress. As a founder of Transpersonal Psychology (late 70s), she served as a spiritual guide to individuals for 20 years. In the late 80s, she began to define the field of global transformation at the United Nations, where she successfully lobbied for elevated global standards in international treaties and co-founded the Values Caucus (1994) and the Spiritual Caucus (2000). Working with 78 international organizations in war zones for over two years, she recognized the traumatic effect of war, not only on military personnel, but on their families, communities and service providers. She then designed the first global training programs and workbook on secondary traumatic stress, implemented initially during the Balkan wars and now used internationally. She is a founding member of the Global Commons Initiative, World Wisdom Council, Creating the New Civilization Initiative, 2020 Climate Leadership Campaign, WorldShift 2012 (Ervin Laszlo), Global Alliance for Transformational Entertainment, and is a member of the Editorial Advisory Board of Integral Review, a Board member of Living Earth TV, Board of Directors of Lifebridge, Advisory Board of Globalization for the Common Good, and a speaker at Mikhail Gorbachev's World Political Forum.
Tara Stuart

Tara Stuart, Assistant to the Editor, holds an International Associateship degree, equivalent to a US Doctorate of Education, from the University of London, Institute of Education. Tara has a diverse professional background as educator, speaker, author, illustrator and CEO of her own business. She has lived and worked in a variety of cultures and nations which include the Yucatan of Mexico, Switzerland, India, Great Britain, Turkey, Tibet, and South Africa. She was Co-founder of the Hill Center for Psychosynthesis in Education in Walpole, New Hampshire. In cooperation with The School for International Training, Tara and her associates were instrumental in establishing and international education program for gifted high school students in five nations. As a professor she has taught Ethics in Communication, Interpersonal Communication, Intercultural Communication, Advanced Public Speaking, Group Interaction and a Seminar in International Communication. In 2005 Keene State College of the University System of New Hampshire recognized her as Professor of Communication, Emeritus.
Rhonda Fabian, Vice Chairman, Treasurer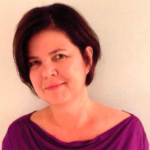 Rhonda Fabian is a lifelong learner, educator, and the digital editor of Kosmos Journal. She is founding partner and CEO of Fabian Baber Communication and ordained in the Buddhist monastic tradition of her teacher, Zen Master Thich Nhat Hanh.
As co-founder and CEO of Fabian Baber Communication, a leading digital learning company for 25 years, Ms. Fabian garnered numerous awards as an instructional designer, writer and director of more than 800 educational programs for learners age 5 to adult.
Ms. Fabian has a BA in Anthropology, and completed her Masters studies at the Annenberg School for Communication at the University of Pennsylvania. Her professional interests include emerging models in higher education and communication – particularly organizational and interpersonal communication, online learning, and digital media – as well as intentional community and local economy.
Ms. Fabian began her career as a freelance photojournalist for CNN, MTV and Public Broadcasting and spent seven years immersed in the musical traditions of New Orleans as an ethnographer, media-maker, and music manager.
Ms. Fabian lives in 'Transition Town' Media, PA, and is a mother and community activist. She is also a court-trained Special Advocate for abused and neglected children.
Stephanie Shorter