How We Win | Divestment and Nonviolent Direct Action
---
In 2009 a group of Quakers concerned about climate and economic justice gathered in a Philadelphia living room. The group was looking to start a campaign that would be significant for people and the planet – yet, at the same time, would be winnable.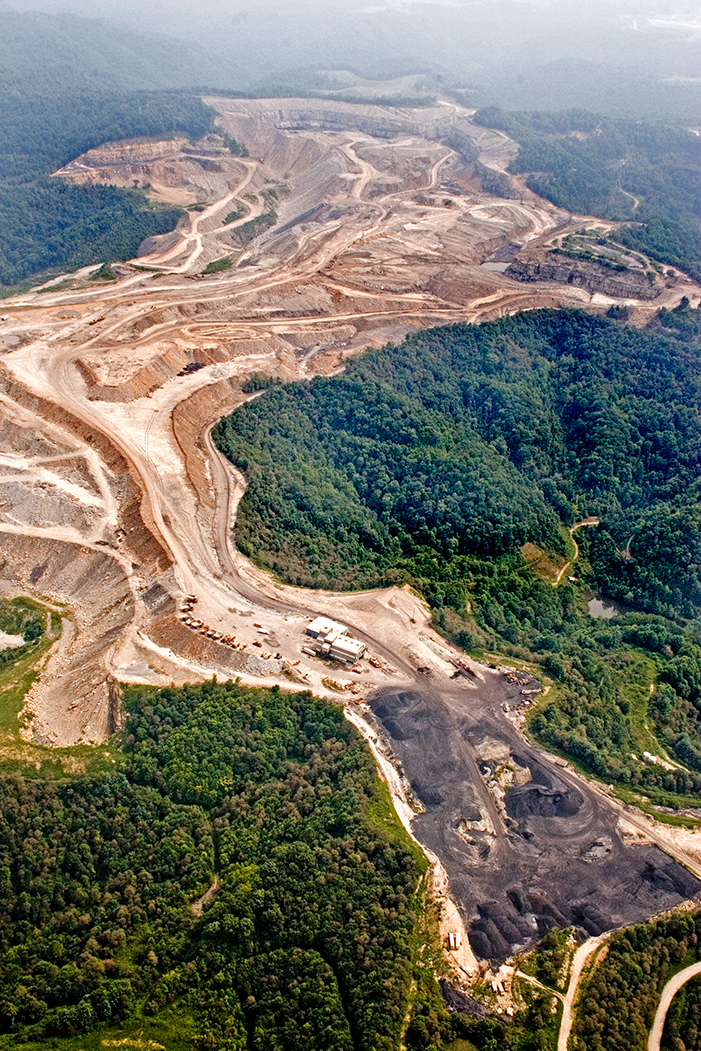 We had heard about the practice of blowing up Appalachian mountains for coal – 500 mountains had already been leveled. The coal companies found they could save on labor by using dynamite and heavy machinery to extract the coal by taking down the mountain, layer by layer.
The resistance movement of Appalachian people had few allies outside the region. Mountaintop removal coal mining was the latest of a string of abuses of the Appalachian people by the coal companies. It reduces the number of jobs available in the coalfields, while increasing rates of cancer and birth defects. Maybe, we reasoned, we could help tip the scales with our campaign and assist the long-suffering Appalachian people.
We knew that banks need to loan money to coal companies so they can blow up the mountains, and we discovered the number one perpetrator of this practice. But we knew nothing about organizing a campaign that targeted a bank. In fact, most of our group had never before joined a nonviolent direct action campaign.
Nevertheless, since others had done campaigns, we figured we could learn from them and add our own creativity.
One reason to target a bank was the interface between the climate crisis and the economy. We observed that the economic class that sets the direction for the U.S. refuses to accept responsibility for climate consequences. The 2008 Wall Street disaster only underlined this reality and the culpability of banks in the broader disaster. By pressuring a bank to take responsibility for the consequences of its practices, we would be pushing a higher standard of behavior.
On the other hand, we were just a living room full of people and the primary source of financing for mountaintop removal was PNC Bank – the seventh largest in the U.S.!  Could we make a difference? We needed to research and identify the bank's vulnerabilities.
The bank spent time on college campuses in the first weeks of the fall reaching out for new customers among the students who were away from home for the first time. We simply showed up on those campuses, stood next to the bank's sales booth, and pointed out to the students what their deposits would be used for.
In the bank branches, the tellers and even the branch managers had no idea what the bank was doing with depositors' money. Of course we went into the banks and told the customers, but we also told the tellers and managers. Soon the memo came from corporate headquarters in Pittsburgh: DO NOT READ ANYTHING BY EARTH QUAKER ACTION TEAM!  We quickly learned that our presence in bank branches did indeed quake their earth.
We escalated by sitting in a circle on the floor to sing and pray and testify about what we'd seen in Appalachia. This disrupted the bank operations so they called the police. An increasing number of us were arrested, crossing a threshold that most our members had never imagined crossing.  It strengthened our courage and more people joined our group, which we nicknamed EQAT.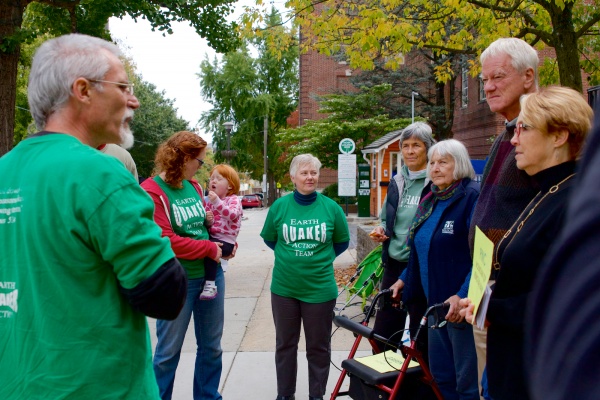 Over time we were able to disrupt two bank branches in adjoining towns on the same day, then two states, and then three or more. The bank began to surveil us to learn where we would turn up next, a practice we proudly bragged about: "This huge bank stoops to spy on us: we must be more powerful than we thought!"
The bank surveilled us to be able to close its banks when we were due to arrive, locking their doors against their own customers! We declared victory each time, realizing our new members of our still-small but growing campaign had more power than they knew!
I found myself, at 76, walking 200 miles across Pennsylvania to PNC's headquarters city, Pittsburgh. Our group stopped at local branches along the way, doing our actions and asking: "Would the senior officers of PNC walk 200 miles to demonstrate their deeply-felt conviction that destroying the climate and injuring people was an OK way to make a living?"
None of the officers stepped forward to "put their skin in the game." We weren't surprised: we'd been meeting with bank officers all along, and none of them was able to justify the bank's practice.
We continued to research the bank and learned that members of their board of directors were often honored by a hometown chamber of commerce or other group. We began to show up on those occasions, paying to attend the banquet or reception, and then speaking out loudly during the ceremony to tell those attending what they didn't know: the honoree was receiving payments for their role in a bank that blew up mountains and gave people cancer!
On our website we kept a running count of the amount of money that bank depositors told us they transferred from PNC to credit unions and community banks. The total reached five million dollars by the time we won.
After two years attending national shareholder meetings and waiting patiently for the Question and Answer part of the agenda, we escalated by disrupting the meetings and shutting them down. Our action inside the meetings was simple: telling the truth about the bank's actions, loudly — a truth the bank did not want its shareholders to feel in a way that would reach their consciences.
After EQAT's campaign of five years and 125 actions, the mighty bank finally announced to the world that it was giving up financing mountaintop removal coal mining. Within a week, Barclay's Bank in the UK – the banking giant of the British Commonwealth – announced that it, too, was abandoning the practice. The beautiful Appalachian mountains have been largely undisturbed since.
Our campaign grew from that West Philly living room to 13 states. The new activists had given themselves some important resources: an internal coach with prior experience, an external consultant who also had previous experience, and the willingness of Rainforest Action Network to be our "big sister."
The good news is that a small group can take on a big goal if its members focus their energy, adopt nonviolent direct action as their means, develop a steep learning curve, attract new members, sustain and escalate their actions, and support each others' spirits.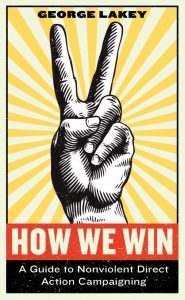 Excerpted from How We Win: A Guide to Nonviolent Direct Action Campaigning by George Lakey, published by Melville House (Brooklyn and London), 2018.
See also:
Earth Quaker Action Team (EQAT.org).
Columnist for WagingNonviolence.org