Article
Social Justice and Health
Selfcare Freedom
Environmental resilience-building at its best reflects nature's magnificent, layered interconnectedness. Imagine if local resilience-building against the backdrop of accelerating climate change were to take place in neighborhoods, towns, cities, states, regionally, nationally and among allied countries, facilitated by a constant communications flow among all scales via a permeable membrane!
Envision a world in which control of food production, access to clean water, renewable energy and everything that's needed for an Earth-protecting way of high-quality living were to rest in the hands of environmentally literate communities at every governance scale! Hold that intention.
Sparked by the Quaker Earthcare Witness (QEW) United Nations Working Group in 2016, the QEW African Diaspora Coalition launched a "Grow Your Own [herbal] Medicine" Project with that deliberate intention. Driven by partners in marginalized communities of African descent, the Diaspora Earthcare Coalition goals are to: 1) put increased control over the ability to treat illnesses that chronically plague the Black community directly into the hands of African Americans, 2) localize production of plant medicine which is crucial to resilience and survival in times of climate disruption, and, 3) foster African American agro-economic self-reliance.
The Diaspora Coalition's medicinal herb production project interconnects communities which grow their own plant medicine at the hyper-local level. The project also fosters regional interchange among population nodes throughout the Diaspora around small-scale value-added herb production. The Earth's fractal-patterned web of life is the organizing model.
The Challenge and Approach
People of color experience heart disease, stroke, diabetes, hypertension, asthma, and lead contamination at exponentially higher rates than do whites. The herbs that local Coalition partners grow are those which treat health conditions that are prevalent in communities of African descent as a function of prolonged stress, poverty induced diet, and longstanding institutionalized, and systemic health disparities.
Chester, Pennsylvania, a city of 30,000 is the local epicenter and operational prototype for the plant medicine project. Formerly a prosperous industrial center, Chester which is 71% African American, is now mired in intergenerational semi-literacy, trauma, and poverty. There are no descriptors that adequately capture the depth of exploitation, environmental degradation, and health trauma that the residents of Chester continue to bear.
QEW African Diaspora Earthcare Coalition, headquartered nearby at the Pendle Hill Quaker Study and Retreat Center has engaged and built close relationships with several Chester herb grow-sites and a major wildcrafting site partner over the past two years. The Coalition's eclectic group of Chester community partners including: the Chester Senior Center, Widener University's Taylor Memorial Arboretum, Shiloh Baptist Church, Chester Friends Meeting, Swarthmore College's Lang Center for Civic and Social Responsibility, and Stetser Elementary School, to name a few, have initiated medicinal herb education, and production for local consumption.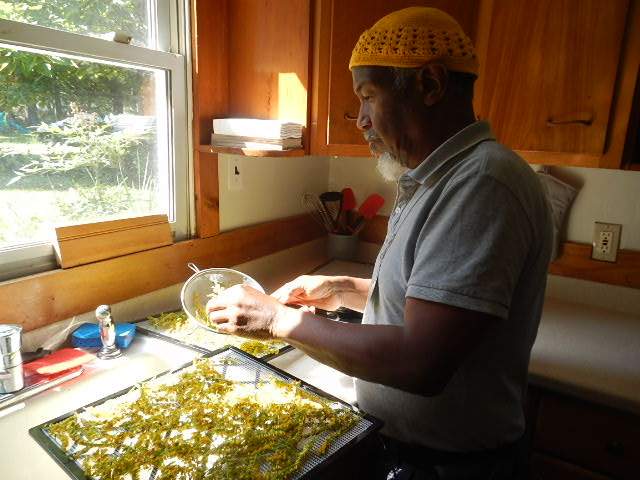 Coalition partners rekindle knowledge of plant medicine that was not so long ago a living, vibrant part of African American cultural knowledge. Following an herbalism immersion in propagation, planting, maintenance, harvesting, and processing methods, Chester residents grow, add value to, and learn about the healing effects of plant medicine and its uses.
The Coalition conducted a successful and bountiful fall 2018 wildcrafted herb harvest of Ginko, Goldenrod, Valerian, Willow, Mimosa, Black Walnut, Mulberry, and Bayberry, and began value-added production of herbal teas and tinctures. Herbs and herbal products will be distributed free of charge to Chester residents in tandem with herb-education classes conducted by project consulting clinical herbalists.
Herb education classes initiated in the fall of 2018 at the Chester Senior Center generated excitement about the power of herbs to support health. Enthusiastic champions emerged who are ready for action with the advent of the spring planting season.
The treasure trove of partners' local experience and shared regional wisdom then inform supranational forums at the UN, specifically through awareness raising side events at the UN High Level Political Forum (UNHLPF) on the Sustainable Development Goals (SDGs). The annual HLPF which takes place at UN Headquarters in New York is a UN forum that brings together all member states and specialized agencies for official meetings, special events, non-governmental (NGO) side events, and educational sessions.
The HLPF is the primary mechanism for the review of countries' implementation of the 2030 Sustainable Development Goals (SDGs) adopted by UN member states in 2015. 2019 will mark the third year that the QEW UN Working Group's African Diaspora Earthcare Coalition will convene an HLPF awareness raising side event.
Coalition partners fully understand the existential need for increased selfcare sovereignty among marginalized people of African descent. African Diaspora Earthcare Coalition partners, in collaborative community, enthusiastically embrace plant medicine as a key to autonomy and environmental resilience at this critical juncture in the Earth's climactic history.
More information: pbs9@georgetown.edu.