Fall Preview: "Our Spiritual Commons"

September 14, 2021 Kosmos Community News
Dear Reader,
In a time when people can barely agree on the color of the sky, what truths can we hold in common? Surely, we share a common concern for the wellbeing of our children and their children. How can we heal, reimagine and regenerate our world with this common love at its core? We are in the early stages of profound change on our planet, and this is the moment when people of goodwill must channel their energy in service to All – not just I, or even "we" in the exclusive sense – but in service to all Earth's children and all Life.
To do this work, we need ways to tap our capacity for insight and awareness, resilience and creativity. We can think of these pathways as a kind of 'spiritual commons' – a shared and abundant collective resource that includes ancestral wisdom, feelings of gratitude, wonder and awe, appreciation for beauty, our powers of concentration and insight, our capacity to awaken, spiritual traditions, and personal practices such as prayer and meditation.
In my mind's eye, I see our spiritual commons as a free-flowing river of pure life-giving waters that each of us can draw from freely. In the Fall edition of Kosmos, we examine and reimagine these rich inner resources.
In loving peace,
Kosmos
By joining Kosmos at any level, (including for free) you can always be assured of receiving our Quarterly.
Excerpt |
The Keynote, by Joni Carley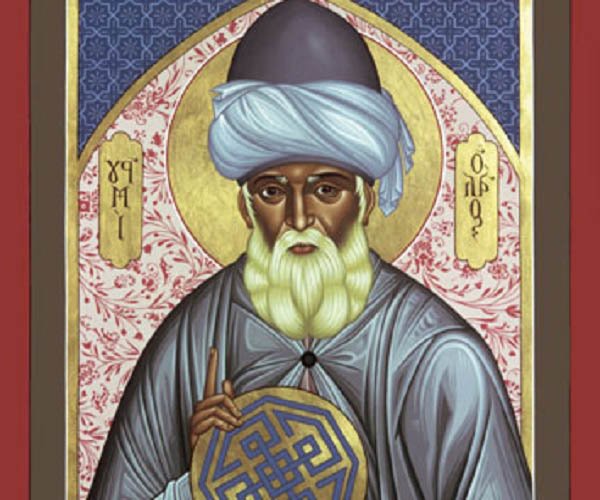 "Sufi mystic, Rumi's poem invites us to the "field beyond ideas of rightdoing and wrongdoing" so that our souls can meet on the type of grass where "even the phrase 'each other' doesn't make any sense." Rumi is not just talking about breaking through the separation of right/wrong judgmentalism, which would be a game changer in and of itself. He takes a step further into the spiritual commons with the understanding that even thinking of "each other" still depicts too much separation. Unity is fundamental to our success as a human race yet we are reluctant to step onto Rumi's metaphysical field of consciousness, where unification is rooted. 
Even with best of intentions and methods, we often end up perpetuating dysfunctional separation-based norms because we completely ignore the common metaphysical field that Rumi leads us to. For example, the United Nations has a motto, "No one left behind" and extraordinary work gets done in fulfillment of it. But, to the extent that our cultural constructs accommodate such a thing as "behind," people will inevitably end up there. 
Rumi encourages us to treat no person as the "other." Indigenous wisdom keepers move even further into the spiritual commons with their understanding that there is no such being as "other," not even a rock. Other-ness is a precept for maintaining the place of behind. Commonality, by definition, has no behind so the spiritual commons is more circular in nature. Concepts like "behind" and "other" do not fit into its ontology."
Interfaith Call for Ecocide Law
September 16, 9-12 CET (eastern hemisphere), 16-19 CET (western hemisphere). ONLINE
Gathering voices from faith communities and spiritual traditions calling for Ecocide law: a practical and powerful step for a duty of care for the Earth.
Speakers: H.H. Pujya Swami Chidanand Saraswatiji, Global Interfaith WASH Alliance (GIWA), Mary Evelyn Tucker, Divinity School, Yale University, Valerie Cabanes, Stop Ecocide International, Cardinal Anders Arborelius, Bishop of Stockholm, Hanna Soldal, Church of Sweden Youth, Erena Rangimarie Rereomaki Rhöse, Maori spiritual leader, Azza Karam, Religions for Peace, Eirik Myrhaug, Sami spiritual leader, Alexandra Masako Goossens-Ishii, Soka Gakkai International Office for UN Affairs, Henrik Grape, World Council of Churches, Pella Thiel, End Ecocide Sweden and others.
Hosted by End Ecocide Sweden in cooperation with Stop Ecocide Foundation, Christian Council of Sweden, the Catholic Diocese of Stockholm, Sigtuna Foundation and Centre for Environment and Development Studies at Uppsala University.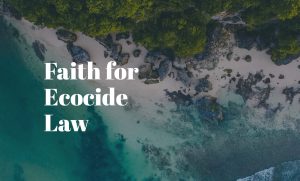 We, as people of faith 
are deeply concerned about the ongoing destruction of our home, the Earth.
demand a global response to prevent mass damage and destruction of ecosystems: Ecocide.
support creating legal protection for life on Earth by including Ecocide as a crime against peace under the Rome Statute of the International Criminal Court.
This conference invites participants to be a part of Faith for Ecocide Law, an international, interreligious coalition for Ecocide as an international crime within the International Criminal Court. Ecocide law is a practical, powerful and possible option for new rules in common to respect and revere the Creation, Mother Earth. The initiative aims at gathering religious and spiritual communities, leaders and voices to express support for Ecocide law towards the upcoming UN conferences on biodiversity, climate and sustainable development. 
For more information and registration, please visit https://lnkd.in/exVqXbg4.
Excerpt |
The Soul of Nations, by Wolfgang Aurose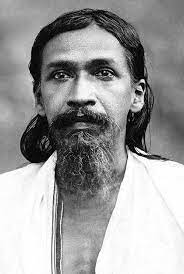 "Modern visionaries, such as the late Indian philosopher and yogi Sri Aurobindo Ghose and the contemporary US-American consciousness researcher Ken Wilber, envision this emergence of a transnational identity as part of the new step in human consciousness that is presently unfolding. For the first time in human history, a large number of people feel their growing individual awareness is enabling them the freedom to leave their inherited religions, traditions, customs, as well as their own native lands. This new level of independent thinking and acting is also happening even in parts of the world where the vast majority of people continue to faithfully follow traditional rules and modes of government.
Wilber, Sri Aurobindo, and a growing number of innovative thinkers around the world, hold that this trend towards a new individual freedom is inevitable. Their basic sense is that this impulse is evidence of the latest evolutionary step in human consciousness, surpassing the former primacy of biological evolution. In fact, geologists have termed the current planetary epoch the "Anthropocene," the era in which human decisions are the primary force in shaping the planet. For better or for worse, it is obvious that current changes on Earth are mostly human-caused.
This view, that the evolution of human consciousness is the main determinant in the overall process of planetary evolution, has come to be known as "Integral philosophy." As I discuss in my book, this perspective also opens up new insights regarding the evolution of nations."
Excerpt |
The Holomovement, by Emanuel Kuntzelman and Jill Robinson

I first came across the term "holomovement" nearly 40 years ago while reading "Wholeness and the Implicate Order," a book written by American physicist David Bohm. Published in 1980, Bohm described the universe as an unbroken wholeness of the totality of existence: an undivided, flowing movement without borders. The holomovement, as explained by Bohm, was "a holistic understanding of our universe as a manifestation of the consciousness of our universe." 
At the core of our universe is the implicate order, the field of consciousness and multidimensional reality of oneness that creates our world. The physical manifestation of how we perceive the universe is the explicate order. The holomovement is what weaves the two together. 
While this description was first used to describe the physical explanation of our universe, Bohm went on to apply it to cosmology and even the source of consciousness. For Bohm, the term describes the flow of the unbounded wholeness of reality, including an openness to apply it to the evolution of consciousness and social organization. In today's context it can be seen as both a spiritual calling and a sociological branding for the so-called "movement of movements" to resolve our planetary crisis. 
In recognition of Bohm's vision and the subsequent realization of the synergistic energy arising, the term "holomovement" perfectly describes the sociological phenomenon underlying the worldwide movement towards unity. Aligned under the whole world view of the Holomovement, we reawaken to our true spiritual nature serving the coherence of new paradigm thought. 
A Holotropic Attractor Guiding Us Toward Unity
More than a catchy name, the Holomovement, as applied to our current times, represents radical collaboration in action, founded in love, with a collective mission that continues to honor the autonomy of each of our diverse purpose-driven efforts. Guided by both science and spirituality and propelled by a sense of purpose, I, alongside a group of thought leaders, envision the Holomovement as a rallying cry for this grand movement to take root, grow and bloom into the new structure of our collective consciousness. 
Throughout history there have been cultural revolutions, yet we're still struggling to give people their basic rights, freedoms and services required for human dignity upon which a transformed society can be built. Anger and frustration might fuel a movement, but it is love and compassion that will foster and sustain true transformation. 
We need a unifying worldview that bridges religions, race, nationality and cultural values. Within the Holomovement, we outline 8 core principles to create a coherent and inclusive vision and message. Alongside these foundational tenets, we also call upon the wisdom traditions to guide us in their long-held understanding of wholeness in our interconnected web of life. By embodying these principles, we can also explore the nature of this Holomovement through the threads of cosmology, psychology and sociology. 
THE REGENERATIVE COMMUNITIES SUMMIT |

Friday, September 24 – Sunday, October 10

As the climate emergency, social crises, natural and everyday disasters continue to rock our communities, Transition and the broader movement for regenerative, just and resilient communities offer inspiration and hope through practical local action. Transition US invites all doers and dreamers, activists and community leaders, farmers and entrepreneurs, educators and artists, and everyday people eager to reimagine and rebuild our world.

Register for the Summit to enjoy real-time participation- as well as access to the recordings-of all our virtual programming!
Frequently Asked Questions about Kosmos 
How do I access the new Quarterly, in its entirety, on September 25th?
Join as a member here, if you have not already done so. There is no cost to create an account.
Is the Quarterly available in print form?
The Quarterly is not available in print form at this time. We converted to an online publication in the Summer of 2018. The new format is more Earth-friendly and significantly lowers our production costs. We are also able to offer more content, including film, music, and spoken word.
How do I access previous editions of Kosmos?
Anyone can access previous complete editions, with or without membership, here:
What is the difference between the Newsletter and the Quarterly?
Kosmos Quarterly is an online thematic journal containing up to 30 fresh features, most of them only available at Kosmos. The Newsletter is sent out every few weeks to share news, opportunities, events and featured stories. The Quarterly archive is here. The Newsletter archive is here.
How can you provide Kosmos at no cost?
In this time of polycrisis, and for the foreseeable future, Kosmos has eliminated pay walls. All our content is free to access. We accept no advertising and are entirely supported by your donations.
Who started Kosmos?
A group of associates at the UN, interested in spirituality, values and transformation, were the genesis of Kosmos. Nancy Roof is the Founder and Editor Emeritus.
Who is the editor of Kosmos now?
Rhonda Fabian is the editor of Kosmos, in collaboration with a circle of guest editors, staff and a Board of Directors. She also writes the newsletter.
Can I publish an essay, poem or artwork in Kosmos?
Four times a year, Kosmos invites submissions of essays up to 1000 words, poetry, or other artwork, in response to thematic prompts. We choose several works to publish in our Quarterly and on our website. Watch here for upcoming calls for submissions.
Create a 

free account here and we will share the world of Kosmos.
Priority access to the freshest Quarterly
Kosmos Newsletter, with briefings, podcasts and short videos delivered to your inbox
Opportunities to engage online with thought leaders and affinity groups
Invitations to Kosmos gatherings
---