Spiritual Activism at The Assemblage NYC, with Alnoor Ladha
On March 14th, Kosmos attended a panel discussion at The Assemblage in New York City, discussing the intersection of Spirituality and Activism.
Standing Rock. Black Lives Matter. The Women's March. Occupy Wall Street. The Arab Spring. LGBTQ rights. The Umbrella Movement…Activism at the start of the 21st century is alive today thanks to the legacy of previous generations. However as we navigate the present day landscape, we witness continued inequality, broken immigration policies, climate chaos, and systemic racism. How can we alchemize our outrage into positive victories and broaden our perspectives?" – Event Organizers
The panel included Alnoor Ladha of The Rules. Alnoor is also an Advising Editor for Kosmos Quarterly. He spoke about the harmful effects of capitalism for societies and the Earth.
Alnoor Ladha's work focuses on the intersection of political organizing, storytelling and technology. He writes and speaks on new forms of activism, the structural causes of inequality, the link between climate change and poverty, and the rise of the Global South as a powerful organizing force in the transition to a post-capitalist world.
Organizers of the panel describe spiritual activism as "an approach which acknowledges Spirit but that is also firmly grounded in an analysis of broken systems, Spiritual Activism emphasizes direct involvement with movements to address solutions while remaining heart centered."
The panel moderator was Richard C. Garrabrant, a yoga/meditation teacher and founder of Organize and Meditate, a collective of activists, spiritual teachers and everyday engaged citizens seeking to prevent burnout. They meditate in public spaces, and gather before demonstrations to align with Highest Self for effective, positive action.
Other Panelists
Sara Gozalo, originally from Madrid, Spain, is a supervising organizer at the New Sanctuary Coalition of New York City, coordinating NSC's asylum clinic and the accompaniment program among others.
Ciara Taylor is a community organizer currently working on the state and national committees for the Poor People's Campaign: A National Call for Moral Revival. She has worked on campaigns with CODEPINK and the Southern Poverty Law Center.
Sah D'Simone is a meditation teacher, transformational coach, breathwork instructor and mental health advocate.
About The Assemblage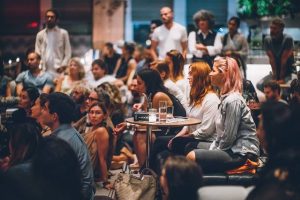 The Assemblage is a community established on a shared system of values, collective consciousness and the idea that humans need to move to a new system whereby people are rewarded for the good their labor brings to the wider world.
The Assemblage is the brainchild of Rodrigo Niño, CEO of Prodigy Network, an accomplished real estate developer and economist originally from Colombia known for crowdfunding commercial properties in Manhattan.
In contrast to other urban coworking and living spaces, The Assemblage has a big picture vision to be part of a transition from a society defined by individualism and separation into one of interconnectedness. They are calling this new era the "age of assembly." Its goals are to provide physical spaces where people can work to leverage solution-based crowdfunding to create positive change and meet individual passions and goals. Another goal is to establish a new form of cryptocurrency which will be used for crowdfunding projects.
The Assemblage is a place where people can work based on the notion that all living things are connected as one. It's an existence that enables individuality, but also collective connection. Beyond a physical space, it's a chance for people to see potential for a more collaborative version of society." -Rodrigo Niño
At age 41, Niño was diagnosed with stage 3 Metastatic Melanoma. After two surgeries, his odds of survival were about 1 in 3 over the next five years. He began to experience "end-of-life distress," a term doctors use to describe the depression, increased suicidal tendencies and demoralization of many terminal patients. Upon learning traditional medicine could not do much for him, he traveled to Peru to partake in an ayahuasca ceremony. After spending a night with a curandero, his fear of dying was gone.
"I had a hallucination which showed me a societal framework in which individuals contribute their interests and passions to improve society as a whole," explains Niño. "This is the premise of The Assemblage: to bring together like-minded individuals to combine technology, consciousness, and capital. We believe impact and capital are not mutually exclusive."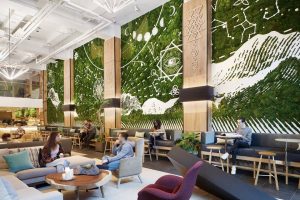 For future events at the Assemblage, click here.
For more stories like this one, please Subscribe to Kosmos Quarterly