Uchita de Zoysa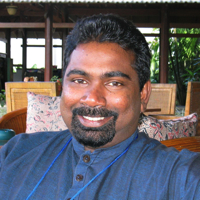 Uchita de Zoysa is an internationally acclaimed thinker, writer and speaker who is a frontline leader and strategist for shaping policy for the global sustainability movement. He is the author of several books including the "It has to be CLIMATE SUSTAINABILITY". He has authored several international and national reports including the 'Asian Review on Sustainable Consumption', contributed to many books on the environment and sustainability, and has played a leading role in the formulation of global independent sector collective agreements such as the 'The NGO Alternative Treaties', the "Oslo Declaration on Sustainable Consumption" and the "Peoples Sustainability Manifesto".

In 1991 he created and lead the then largest environment & development NGO coalition in Sri Lanka called the "Public Campaign on Environment & Development" and edited the country's first ever "Citizens' Report on Environment & Development". He has traveled widely across the world contributing to the largest United Nations global conferences such as the Earth Summit (1992 in Rio de Janeiro), World Summit for Social Development (1995 in Copenhagen) and World Summit on Sustainable Development (2002 in Johannesburg), UN Climate Summit (2009 Copenhagen), Rio+20 UN Conference on Sustainable Development (2012 in Rio de Janeiro) and hundreds of other important international conferences.

Uchita has held numerous international posts including the International NGO Steering Committee of the UNCED, NGO Steering Committee of the UN Commission on Sustainable Development, Advisory Board Member and Head of Asian Review on Sustainable Consumption for "SC.Asia" coordinated by the UNEP, SPACES International Working Group, SCORE Scientific Advisory Board and as International Coordinator of The Widening Circle Campaign for Advancing a Global Citizens Movement.

Currently, he serves on several organizations and committees to further the cause of sustainability on earth; he is the Chairman of Global Sustainability Solutions (international agency for sustainability solutions), Executive Director of the Centre for Environment and Development (sustainability and social justice NGO), Managing Director of D&D Strategic Solutions (Sri Lankan CSR and PR agency), Initiator of the Peoples Sustainability Treaties (an alternative outcome beyond Rio+20), and Coordinator of The Widening Circle (campaign for a Global Citizens Movement).

During the past two decades he has travelled widely across the world, participating in the largest UN world summits and has presented papers at more than a hundred meetings as a strong advocate of sustainability. He lives in Sri Lanka and works towards creating a sustainable world!

e-mail: uchita@sltnet.lk
web: www.glossolutions.com
web: www.sustainabilitytreaties.org
blog: http://centreforenvironmentdevelopment.blogspot.com/
blog: http://ddstrategicsolutions.wordpress.com/
blog: http://climatesustainabilityplatform.blogspot.com/
Article
Realizing early that the Rio+20 Summit was heading towards failure, The Widening Circle (TWC) went to Rio de Janeiro to join those who wanted to see beyond the summit and collectively plan our transition to the Great Transition towards a sustainable future.