Philip M. Hellmich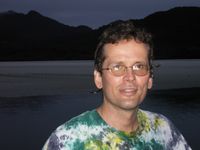 Philip is Director of Individual Giving at Search for Common Ground, an
international organization dedicated to transforming the way the world
deals with conflict – away from adversarial approaches and towards
collaborative problem solving. Philip has over 18 years of experience in
international development and peacebuilding.
His own spiritual journey
began in the bush of Sierra Leone, West Africa, where he served with the
Peace Corps. It has deepened through a daily meditation practice that
has helped him deal with the harsh realities of war-torn countries
across Africa. His area of personal passion is exploring the
intersection between spirituality, consciousness and conflict
transformation. He also is a speaker, trainer and author, with essays
published in The Power of Media: A Handbook for Peacebuilders, Chamalu: Shamanic Way of the Heart (translated), the Chicken Soup for the Soul series and The Washington Post. He also is featured in the documentaries: Hello Love; and Search for Common Mound.