Nicanor Perlas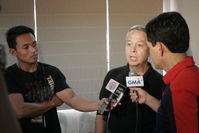 Nicanor Perlas was awarded the 2003 Right Livelihood Award in Stockholm,
Sweden, for his outstanding efforts in educating civil society about
implementing alternatives to corporate globalization. Founder of the
Centre for Alternative Development Initiatives, he won the Global 500
Award from UNEP for providing training and technical assistance to civic
groups in his native country, the Philippines, and for helping ban the
use of thirty two damaging pesticides. A member of Mikhail Gorbachev's
Commission on Globalization, his first book Shaping Globalization:
Cultural Power and Threefolding (2000) focuses on civil society
partnering with business and governments for global change. Spirit or
Empire: Societal Revolution of the Twenty First Century (2004) addresses
the profound challenge of resurgent imperialism on the spiritual and
social future of humanity and the planet.