Jan Lee Martin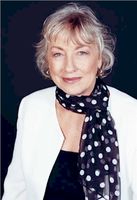 Jan Lee Martin has been an advocate for the future
for nearly 20 years. She has worked with many organizations and
communities to help them create new futures for themselves. Her
preferred approach combines skills from her early business career in
corporate communication with the concepts and methodologies of futures
studies.
She interprets many futures-related
topics for management, from the future of organizations to the future of
success. And she explores the complexity of changing relationships
between organizations and their stakeholders. Here she draws from the
lessons of living systems to highlight the role of communication and
relationships in sustaining successful corporate ecosystems.
Jan Lee Martin was Founding Chair of
the Futures Foundation and edited its journal, Future News, for ten
years. Since retiring from the chair in 2002 she has continued to write
about change and the future and has been a regular speaker at
conferences in Australia, New Zealand, Asia and Europe.
She is co-chair in Australia of the
Millennium Project (a WFUNA organization), a member of the steering
committee of Millennia 2015, and a consulting editor to the International Journal of Futures Studies.