Why I marched on Washington for the first time in 25 years
By Ilene Prusher, via haaretz.com
(Washington, D.C.) Jan 22, 2017
In the beginning we stood packed like sardines, with so many eager women (and men) crammed into one space that we could hardly move or lift our signs. We had to hold onto each other in this virtual mosh pit for fear of losing each other. Big groups found it impossible to unfurl their banners because there were people covering every inch of grass and concrete outside the Capitol and around the National Mall.
We knew this would be big. But no one, it seems, expected that the Women's March would be quite this big. Nor did we expect that the rest of the country and the rest of the globe would respond in kind, reminding us that this was not just a bunch of angry, liberal East Coast feminists griping about the outcome of this election. No, this was far bigger than that.
The march fast outgrew its capacity. Amid a sea of humanity that came to greet our just-inaugurated president, Donald Trump, on his first full day in office, most of us never made it close enough to the speaker's stage, which was set up with a sound system meant to reach a few thousand, not half a million or more. We caught glimpses of the stars on the big screen – Michael Moore, Gloria Steinem, Ashley Judd – but it was we who stole the show. We who were neither actors or nor activists. We who found ways to get to Washington from far, far away. We who, despite what Donald Trump tweeted following his election, are not "professional protestors." We who are concerned and alarmed by just about every word that comes out of Trump's mouth, every cabinet pick he makes, every campaign promise he threatens to make good on.
We were so many, it seems, that we couldn't hold a formalized march because hundreds of thousands of people had already filled the protest route before it was due to begin. Eventually, we managed to march up and down the National Mall, past the Washington Monument, and headed for the White House.
We sang American songs that moved some of us to tears. We smiled at the signs that ran like a comical commentary of every sexist, misogynist or lewd comment Trump has ever made about women, and a rebuff to the Christian fundamentalism of Vice President Mike Pence – who is both pro-life and an opponent of gay marriage.  We chanted call-and-response slogans.
"No hate, no fear! Immigrants are welcome here!"
"This is what democracy looks like! This is what democracy looks like!"
"We want a leader, not a racist tweeter!"
Best of all were the drums. They kept us moving in the chill January air and made us dance. When we reached the Ellipse, a park that is like the back-backyard of the White House, the drumming intensified. A Brazilian-style drumming circle of about two dozen people, mostly women, all in their pink pussycat hats, played intently as people chanted:
"Welcome to your first day! WE WILL NOT GO AWAY!"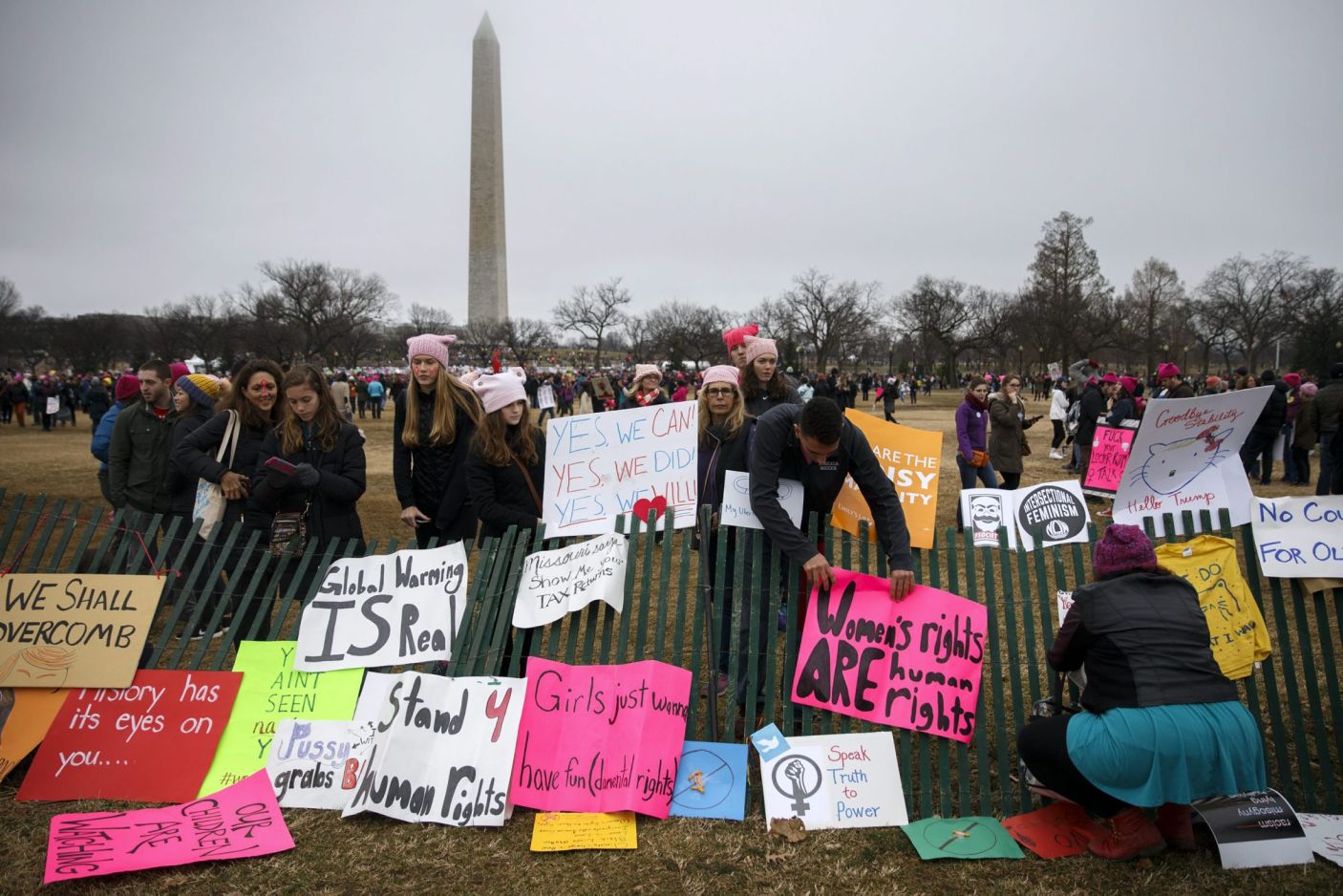 It seemed clear that the beating of so many drums traveled far, and could be heard in the White House itself. It was an empowering feeling. The new resident of 1600 Pennsylvania Avenue was clearly not happy we were in shouting distance of his house – but we felt sure that he knew we were here, and could hear us.
Hear, perhaps, but didn't listen. Trump ignored the nationwide and worldwide protests, but instead focused his wrath on the media for reporting on the smaller-than-expected turnout when compared to the 2009 and 2013 inaugurations of Barack Obama. This made Trump so angry that while we were out marching, he sent his spokesman Sean Spicer in to yell at the press, effectively yelling that the media's attempts "to lessen the enthusiasm of the inauguration are shameful and wrong" before leaving without answering questions. And Trump ratcheted up his vilification of journalists on Saturday while in the lobby of CIA headquarters in Langley, saying: "I have a running war with the media. They are among the most dishonest human beings on earth, right?"
Well, I tend to think of myself as not one of the most dishonest human beings on earth, so I should come clean about what it means for me to attend a protest that I wasn't assigned to cover.
Back when I was a senior in college, George H.W. Bush was in power and there was talk in Washington of overturning Roe v. Wade, or at least making it extremely difficult to get an abortion. Three girlfriends and I piled into a car and drove from Albany, New York to Washington, D.C. to participate in a massive pro-choice rally. It was the first time I ever attended a national demonstration in the capital, and soon I decided it might be my last.
That's because just before leaving campus, I stopped into the college newspaper, where I'd served as a copy editor and occasional columnist. I told the editor-in-chief that I was going to the rally in Washington and could cover it for the paper.
"So, you'd be going anyway just to be part of it?" the editor asked. "To participate in it?
"Yeah," I replied, not sure why this detail beared repeating
"Well then you can't cover it for us."
I was surprised. I wasn't then keen to the idea of avoiding conflicts of interest, and I didn't get that reporters were supposed to create an inviolable boundary between journalism and activism. Either you participate in an event or you cover it, the editor explained to me. You cannot do both.
That was in March 1992. Now, almost 25 years later, the media landscape is changing. Some argue that transparency is the new objectivity, and that we were never as neutral as we pretended to be anyway.  I chose to march in Washington with six members of my family to make a statement about the kind of country we would like America to be. I know that my own grandfather, Charles Weinstein, used to march in parades decrying signs calling for an end to Jim Crow laws and demanding fair wages for workers. He was an immigrant who would have been appalled by the anti-immigrant rhetoric or Trump.
A quarter of a century since my last march on Washington, we're learning that it's possible that it could again become illegal – for starters, just economically prohibitive – for women to choose when and whether to reproduce. If Trump and Pence have their way, and a new Supreme Court justice is confirmed, Roe v. Wade could be overturned. And it's possible that the kind of behavior and attitudes toward women that Trump demonstrated over the years will be made accepted, bringing us back decades. That alone would trouble me, but of course, it's not that alone.
It's everything. It's health care, education, foreign policy, gun control, climate change, minority rights, inclusivity, immigration. Fairness and decency. There isn't one thing Donald Trump has done in the 10 weeks since he became president-elect and the one day that he's been in office that sets our minds at ease.
We can wait and see, and hope that he meant it when he said he would be "so presidential." Or we can mean it when we chant, "We will not go away."
About the author
Ilene Prusher is a journalist and multi-genre writer who lives in Jerusalem. Her first novel, Baghdad Fixer, was published in London in November 2012 (Halban).
This article appeared in haaretz.com