Book | The One Life We're Given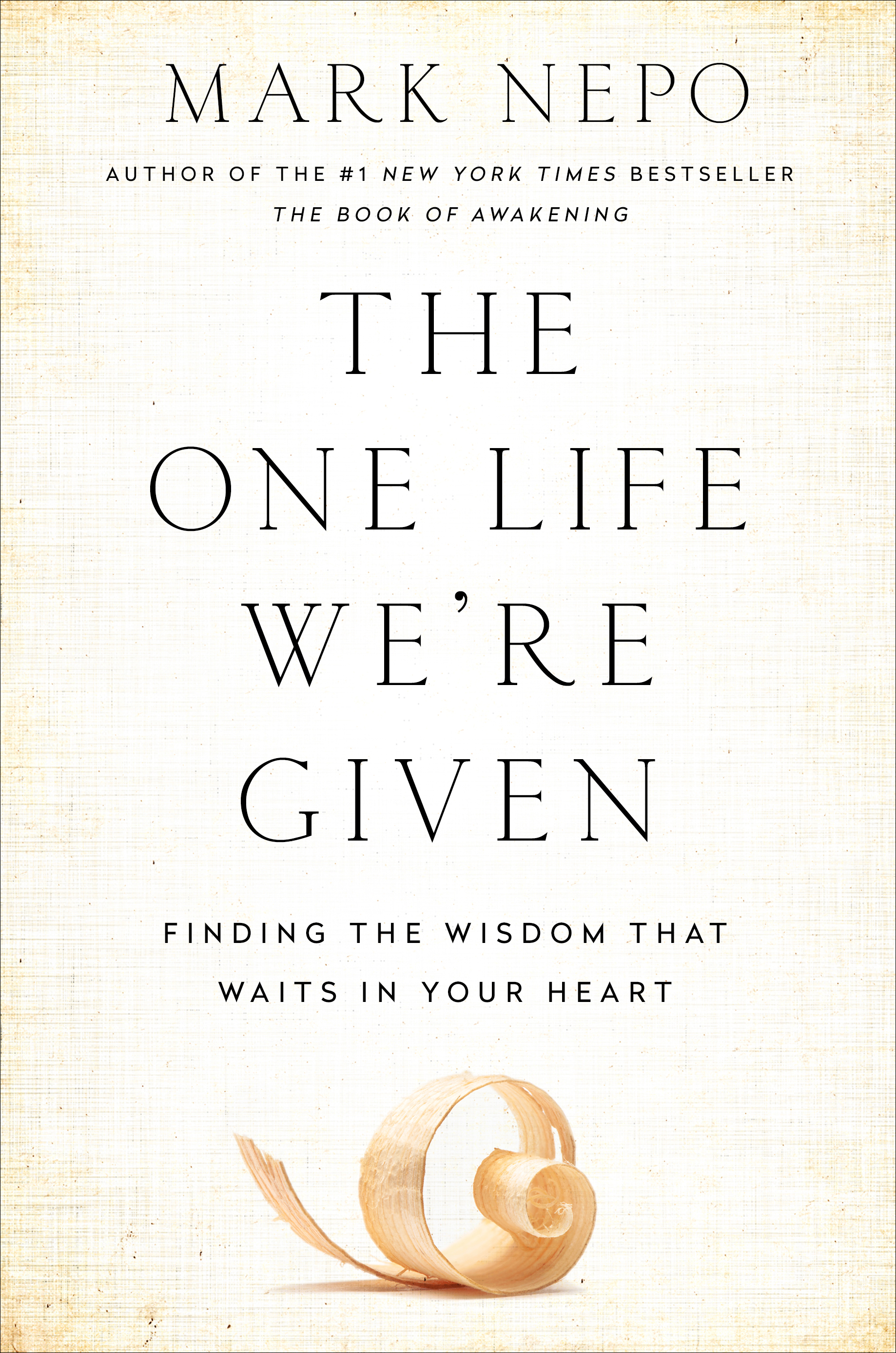 By Mark Nepo, from his new book:
THE ONE LIFE WE'RE GIVEN
FINDING THE WISDOM THAT WAITS IN YOUR HEART
Atria Books, 2016
A Kosmos featured book for the Sacred Season
During the summer, I was staying in a lodge near the foot of the Rocky Mountains. Every morning I'd stroll along the path behind the lodge, watching the tufts of grass stretch to meet the dew. The sun hitting the wet grass seemed an illumination. In that crisp early light, I was reminded that everything in life has an inner quality that emanates from its center.
That emanation of life-force coming out of everything is Spirit. And the sensation of that lifeforce moving out of us into the world is the sensation of being fully alive.
The sun gives flowers light, but what makes them grow to the light comes from within. In the same way, aspects of nature stir us until the life-force within us moves into the world. When we blossom this way—when we come alive and open—we are awakening. As the sun spilled over the face of the mountain, I realized that just as gravity will always pull things to the Earth's center, the life-force of the Universe will always emanate from its center into the world.
Two weeks later, I was in New York City, marveling at the stream of humanity rushing everywhere. I was near Bryant Park, standing on the corner of Forty-third and Sixth, in the swell of hundreds whose moods flashed up and down the outcrop we call a street. I stopped as I had on the mountain path behind the lodge. I closed my eyes, feeling how fragile and magnificent we are. And in that crisp early light, I was reminded of something else I've known forever: that being thoroughly human, we can't remain in a permanent state of awakening.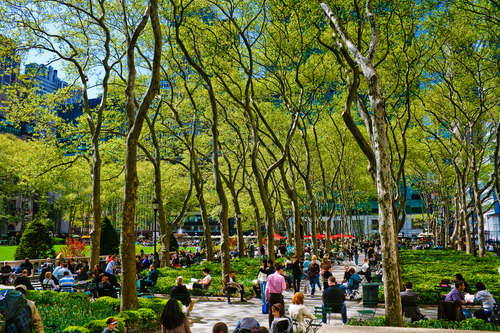 I found a small table in Bryant Park and watched the maples and elms stretch and bend toward the light, as they have for decades. I felt beautifully alone in the midst of so many, at a perfect intersection of nature and all our yearning. Sitting there, I realized that awakening is the result of any process that lets Spirit emanate out of our being into the world. That process can be a willful commitment to learning and growing and listening and loving; or it can be a process we don't look for that breaks us open, wears us down, or jars us into seeing. Regardless of the task or practice we involve ourselves in, we're blessed with these moments in which love softens us and suffering wears us down until our light comes through.
Across the walkway, a reggae-man and a Hasidic Jew were playing Ping-Pong, and next to me a young Asian woman was reading a Chinese newspaper. Suddenly, a patch of light flooded the Ping-Pong table and spilled across the story she was reading.
I moved my chair to be directly in the sun. I couldn't help but smile at the diversity of life around me and at the diverse ways we can awaken. It could be love that awakens me. I can be so moved by your beauty—your life-force emanating from you—that my spirit is stirred and drawn out of me—through my heart, through my mind, through my eyes, through my body, ever toward you—and I tremble to be so alive. It could be suffering that awakens me. I can be broken open by pain or grief so that the life-force we call Spirit can find its way through the walls I've constructed to guard it. Either way, one purpose of consciousness is to gain access to the light of life in the muddy times that we don't feel lighted."
Along the way, the pain of living can make us identify with the container—our body, our circumstance, our way in the world—and not the life-force that moves through us. When our body is broken, we only know ourselves as broken. When our circumstance is torn, we only know ourselves as torn. When our way in the world feels uncertain, we only know ourselves as uncertain and confused. But our enduring identity resides in our kinship with the life-force or Spirit that moves through us, and not in what is done to the container.
It's been months since I was walking in the foothills of the Rockies, months since I was sitting in Bryant Park. Now, as I write this, I'm sitting by the Pacific Ocean, watching the lazy surf curl into itself.
I listen to the waves as they crest and swell, as they've done for millennia. Everything alive is drawn to the sea, as everything alive is drawn to be awake. As individual beings, we're portions of Spirit born in bodies in time, tumbling through this messy and tender journey of being human. And awakening—surfacing the Spirit that gives us life—allows us to discover Heaven here on Earth.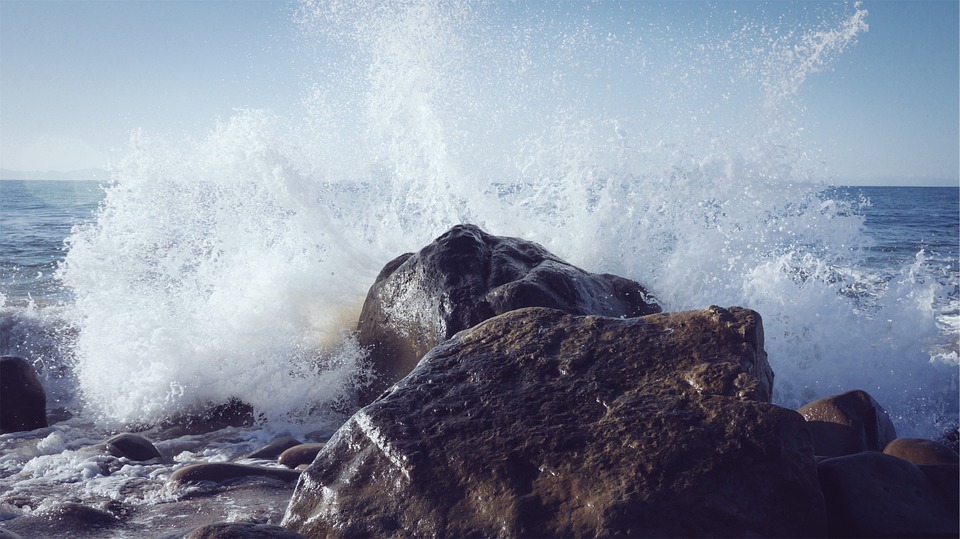 I just walked a mile along the shore because I felt compelled to sit on the rocks at the turn of this coast. Their steadfastness makes for a beautiful spray. Our steadfastness makes the forces we meet glisten like the spray on these rocks. Though I confess I'm not always steadfast. There are days I struggle to find the aliveness I cherish so deeply. But right now, sitting on these ancient rocks facing the sea, I'm opening and closing this miracle I call my hand, knowing I'm not just the muscles that make my arm lift, but the life-force that inspires my arm to reach. This urge to reach is an intrinsic form of awakening, in which the Spirit we're born with is fulfilling its purpose by emanating into the world.
If you look at anything long enough, you will sense life-force emanating from it. If you stand still long enough, your heart will open and you will feel life-force rising within you. You are ever awakening. We are ever awakening.
One purpose of consciousness is to gain access to the light of life 
in the muddy times that we don't feel lighted.
Seeds to Water
In your journal, describe one thing in your life that, like the undergrowth in the forest, is blocking the light within you from shining forth. How has it grown in the way? What can you do to move it aside or prune it back?
In conversation with a friend or loved one, tell the story of a person, place, or experience that has awakened you, and how you've been changed by that encounter.
Mark Nepo moved and inspired readers with his #1 New York Times bestseller The Book of Awakening. Beloved as a poet, teacher, and storyteller, Mark has been called "one of the finest spiritual guides of our time." Recent work includes The One Life We're Given: Finding the Wisdom that Waits in Your Heart (Atria, July 2016); and Inside the Miracle, selected as one of the top ten best books of 2015. In the fall of 2016, Mark will have a new book of poetry, The Way Under the Way: The Place of True Meeting from Sounds True. For more, visit: MarkNepo.com or ThreeIntentions.com
Copyright © 2016 by Mark Nepo. Excerpted from THE ONE LIFE WE'RE GIVEN published by Atria Books a division of Simon & Schuster, Inc. To order | http://marknepo.com/books_onelife.php