Seed Grant Alum | Activist Ashram, One Year On
Kosmos caught up with Alnoor Ladha, co-founder of
/The Rules
, a 2016 Seed Grant Recipient. Mr. Ladha filled us in on what last year's seed grant helped accomplish at
Activist Ashram.
Kosmos | How was your grant applied?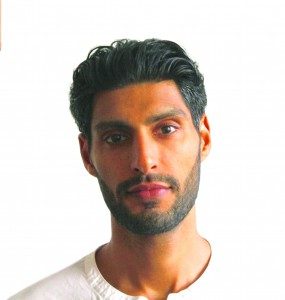 In February 2016, we launched an annual global fellowship program under the rubric of the Activist Ashram. With the support of the Kosmos Seed Grant, the inaugural launch of the program started with an Opening Circle in in Morocco. There are five fellows in this first year and there will be twelve for the second year (2017). See below for current AA Fellow bios.
Our goal is to support local movement building, to provide activists with the tools for critical analysis, to create new types of content and tools for expression, and to create a global community of shared struggle.
The Activist Ashram intends to give an alternative narrative to organizing as commonly perpetuated by the NGO industrial complex that has strongly influenced grassroots organizing and activism and thereby helped to maintain the status quo and re-enforced the current economic and political regime (i.e. the UN Millennium Development Goals framework and training and recruitment through organizations like ONE.org).
Kosmos | What were the outcomes?
Fellows were provided with the following:
1) An Opening and Closing Circle and a Closing Circle that are fully funded
2) A stipend of $1000 a month for 12 months
3) Access to /TR's full time staff to support local campaigns
4) A monthly teach-in curated by /TR
5) A de-schooling curriculum that is co-created with the AA Fellows, with a focus on 'sacred activism'
We believe that the work of the Activist Ashram is critical in creating a new cadre of global grassroots leadership that shares language, tools of expression, analysis and a metaphysical worldview that is beyond the rationalist, dualist materialism of the progressive movement of the past. We believe that this work is deeply aligned with the Whitman Institute's focus on community development, leadership and movement building.
Kosmos | Please describe your methodology.
We start from the position that we are not training grassroots activists. This is a co-learning and supporting process where we help remove obstacles for activists at the coalface of the struggle against late-stage capitalism. We focus on grassroots activists that are already the glue within their community (the "young elders" of their communities). We will not recruit those who are involved in large NGOs or so-called experts or professional activists.
The Activist Ashram is based around two bookends. There is a kick-off orientation session (the Opening Circle) where all Fellows meet each other, to build networks of support, discuss the basic tools required to do their work, and sync with the global /TR team as their support staff. There are no mandatory requirements for milestone reports of any kind or activity formalization.
Fellows are encouraged to let the /TR team know what issues they're working on to enlist the organization's support, and to contribute to /TR's campaigns if they are interested. At the end of the one year, there is a Closing Circle where Fellows discuss their key learnings, what aspects of the Fellowship we should keep or discard, and what further support they need. Six months into the program, we will ask Fellows to nominate up to two to three fellow organizers from their community for the next year's fellowship in order to work deeply with communities over a longer period of time.
Additional Information
Fellowship Content:
The Fellowship will be focused on four key areas of support:
1) Structural analysis – We discuss how to 'ladder-up' issues so that there is a common discourse among progressive movements around the world to build a united front against the logic of the operating system. We will also arm Fellows with the latest insights from diverse fields such as framing analysis, cognitive linguistics, behavioral psychology, and evolutionary anthropology. All of these insights will be contextualized for local struggles and movement building in general.
2) Tools of expression – Fellows and /TR staff collectively provide immersion workshops in the key skills of memetics, political writing, public speaking & teach-ins, research & citizen journalism, creating networks of dissemination, and artivism (street art, spoken word, protest music, etc.).
3) Tactical repertoire –  Fellows and /TR staff collectively provide workshops and immersions in best practices for community organizing, non-violent direct action tactics, digital organizing, social media, tech security, and mobile tools. We will compile a growing, living database of tactics so that existing Fellows and alumni can build on these tools.
4) Sacred activism – Fellows and /TR staff collectively provide workshops and on-going counsel on emotional, spiritual, and mental well-being. This includes topics like how to avoid activist burnout, how to cope with traumatic experiences, how to develop or augment spiritual practices, how to nurture family ties and a community of support, and frameworks to synthesize our spiritual and political belief systems.
One of the aims of the Activist Ashram is to deepen long term relationships with a core group of communities. For 2017, we are expanding the fellowship to twelve people. Five to ten of which will come from the existing AA fellows who will nominate their community members. This is the key outcome. A growing connective tissue of young leaders who are connected by a political analysis and spiritual practice.
2016 AA Fellow Biographies:
Ankita Anand is an activist in New Delhi, India. She is a co-director in one India's leading 'theater-of-the-oppressed' troupes. She is also a journalist focusing on social justice and human rights issues and has won several awards for her work in rural India.
Emma Dabiri is an activist in London, England. She is a writer, educator and researcher, focused on racial and gender justice, and the centralizing of narratives that go under the radar. She is one of the key diaspora organizers for Black Lives Matter. She is currently completing her PhD in the sociology department at Goldsmiths, researching constructions of queer black masculinities.
John Mulingwa Nzau, also known as Garang, is a social justice practitioner, community organizer, frontline human rights defender located in Nairobi, Kenya. Since 2003, he has been one of the leading voices at Ghetto Radio, which has the largest youth audience in Nairobi and Kibera (East Africa's largest informal settlement).  He has worked on issues of policy development, youth leadership, community organizing, movement building and international development.
Juan Manuel Orozco Moreno is an activist based in Comalcalco, Tabasco, Mexico. Much of his work is focused on collaborating with agricultural works in rural areas on building strong local economies while defending their landscapes from extraction industries, particularly the petroleum industry.
Zayaan Khan is an activist based out of Cape Town, South Africa. She has spent her career focused on popularizing and sharing Indigenous knowledge, specifically around food, environmental, and social justice issues. She has been one of the young leaders spearheading the Rhodes Must Fall and Fees Must Fall student movements in South Africa.