Excerpt | The Soul of Education
by Rachael Kessler, in Kosmos Journal FALL | WINTER 2017
"In the United States, we have had a series of 'prevention wars' on drugs, teen pregnancy, youth suicide, and violence (Shriver & Weissberg, 1996). But the spiritual void—the emptiness, meaningless, and disconnection many students feel—is a root cause long left out of the analysis and the cure. Only recently, and particularly after the tragic epidemic of schoolyard massacres of the late 1990s, are policymakers and social scientists beginning to recognize our neglect of the souls of young people (Benson, 1997; Kids Who Kill, 1999). "I think that's a very important part of all of this, the spiritual emptiness that so many kids feel," said Cornell professor James Garbarino when a panel of experts sought understanding on the day following the Columbine massacre in Littleton, Colorado. "And when they feel it, when things go bad in their lives, there's nothing to fall back on and also there's no limits to their behavior" (Kids Who Kill, 1999).
Similarly, as a House subcommittee responded to the eruption of violence plaguing our youth, Congressman Tom Tancredo (R, 6th, CO) spoke of "a spiritual darkness that permeates the moral landscape of the nation." A member of the House Education Committee, Tancredo continued:"Our task is to now forgo cursing its existence and begin to light the candles that will pierce it" (cited in Romano, 1999, pp. 4, 11).
Although we must address the socioeconomic sources of the persistent violent and self-destructive behavior of our teenagers, we cannot really understand or heal from these plagues if we do not begin to recognize and meet the spiritual needs of our children. Do we need periodic reminders from sawed-off shotguns to show us that these young people feel? Is it possible that these senseless acts of violence are guiding us back to what, in our hearts, we know is a core mission of education in the first place?
Perhaps we do need these reminders. Many communities decided years ago that the inner life of our children was simply not the business of public schools. Many classrooms are 'spiritually empty,' not by accident, but by design.
We decided to exclude the spiritual dimension from education because we adults couldn't agree on what 'it' was or how to teach 'it.' Liberals fear that 'fundamentalists' will sue them as 'New Agers' if they introduce a spiritual dimension into the classroom. Christians fear that secularists will paralyze their efforts to provide spiritual guidance to children in schools. Other religious groups are often not even included in the conversation. Collectively, we reached a standoff, and our children have been the losers."
This article will be available to Kosmos Subscribers November 1, 2017. SUBSCRIBE.
About the Author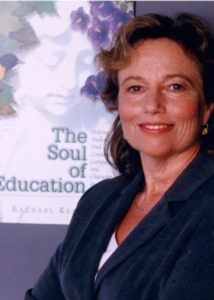 Rachael Kessler, Founder of the PassageWorks Institute died on January 27, 2010 in Boulder, CO surrounded by family and friends.
Recognized by Daniel Goleman as a "leader in a new movement for emotional literacy," Rachael developed a framework for nurturing the inner life of students and teachers that honors the interests of educators, parents, and policy-makers. Her groundbreaking book, The Soul of Education: Helping Students find Connection, Compassion, and Character at School (ASCD 2000), was distributed to over 110,000 educators worldwide. Her work has been endorsed by educators across the spectrum of religious and political belief, progressive to conservative, fundamentalist to agnostic. Howard Gardner wrote that her "examination of the quest for meaning among today's adolescents is both daring and needed."