by Sarah Anne Edwards, PhD, LCSW, via her blog
The term anxiety is commonly used to refer to a vague sense of undefined discomfort, while in psychiatric terms it refers to suffering from irrational fears out of proportion to the actual likelihood or impact of the feared events. But such a definition and approach could not be further from understanding the eco-concerns arising today or what needs to be done in response to them.
The effects of global warming, resource depletion, and other environmental crises are neither vague nor irrational.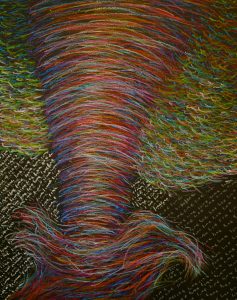 If a major tornado were heading toward one's community, we would not say those who were concerned about it are suffering from 'tornado-anxiety'. Nor would we prescribe daily meditation, a walk in the park, or joining a support group as the best ways to respond. While the danger from what is taking place ecologically and its impending economic fall-out is not descending upon us as instantaneously as a tornado might, feeling concerned about the seriousness of its current and worsening impact is a healthy, natural reaction to our growing consciousness of a real threat. It needs to be defined and treated as such.
Not only do these concerns arise from signs of very real and disturbing economic and social consequences, they also will soon be generating a pandemic of personal, spiritual, and psychological crises. We as family, friends, and helping professionals need to be addressing them in our own lives and be ready to offer an intelligent and useful response to concerned others.
What Is An Intelligent Response?
First, we should NOT minimize, discount, distract or otherwise suggest palliatives to ease these concerns. The more society and those around us discount the reality of the consequences at hand, the more anxious we become and the more maladaptive our responses. Just as we would affirm that approaching tornadoes are real, dangerous and potentially destructive, we need to affirm the appropriateness of concerns about what's happening to the global environment and the significant, disturbing implications that lie ahead, including that there may be dire consequences for some.
Then we need to accept that we, and those we hope to help, will have many unsettling and disturbing feelings about these implications, ranging from fear and grief to anger, confusion, disillusion and depression – all of which are perfectly natural and normal reactions. We may wish to deny, discount, and ignore these feelings, but that we must not do. We must not ignore the tornado or our concerns about it. Instead, we must acknowledge and work through our feelings so we can mobilize.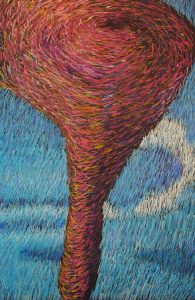 First, what we must face is not one painful, discrete event or loss to which we much adapt. We are faced with an extended series of continual losses ranging from minor inconveniences to major upheavals most likely throughout the rest of our lifetimes. Second, such losses are not limited to just certain aspects of life. Nearly every aspect of our lives will be altered in some way by these changes, eroding the familiar constants that underlie our sense of security.
Third, unlike with the loss of a loved one, a career, health or even impending loss of life, neither those around us nor society as a whole is yet particularly sympathetic, accepting, understanding or caring toward these concerns. Instead our pain may be denied, mocked, or ridiculed. Our concerns may simply be brushed aside as too much to concern oneself with. No one, for example, tells a grieving widow that her husband is not dead. Nor do we blame and accuse her for spreading negativity when she brings up her feelings of loss and all it complications. Such responses are all too customary, though, when one brings up concerns about the effects of global environmental change.
Finally, many of the things we commonly do to assuage painful losses will either not be helpful or available, particularly if friends and family won't acknowledge that there is even a reason for them. For example, going shopping, one of the more popular ways we in America deal with unpleasant feelings, will ultimately only aggravate, not ameliorate our growing concerns. Nor will traveling, partying, or of course, turning to drugs, alcohol and other addictive substances. The tornado is still coming and we still know it, even if we want to deny it.
So we need to respect the psychological stages we can expect ourselves and others to go through and respond to them caringly in ways that will teach us about ourselves, where we and our culture fit into the forces that are at work, and what we need to do differently as individuals and communities to protect ourselves. Relevant books and documentaries on the topic such as the Resources listed here can be enlightening. They may also escalate our concerns, though, if not accompanied by talking with others or reading blogs and posts like those listed here where others can share and discuss what they're experiencing and doing.
The best measure of whether we're responding intelligently is to ask ourselves, "Does this help me or those I'm working with better understand what's happening and how to make sensible choices that will move us out of paralyzing emotions into empowering actions?" Using this question as a test, we can quickly discard many standard anxiety reducers that make us feel better for the moment only to leave us with the same concerns as soon as we return to our daily lives.
Ecotherapy and ecopsychology, for example, are often mentioned as an approach to help those suffering from "eco-anxiety." They can be quite helpful when used as a way to learn directly from non-verbal nature experiences what has led to our current crises and how we could live differently. But they too will fall short if they become nothing more than a temporary outdoor escape from the very real challenges that underlie our concerns.
As with an approaching tornado, acknowledging and dealing with our feelings about the coming threat of environmental concerns and their ensuing economic upheaval is vital, but the best antidote for resolving them effectively is taking protective action.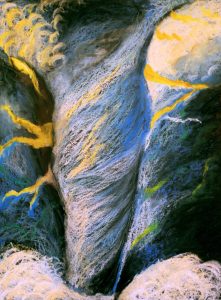 Taking Action on the Personal Level
On a personal level we need to get busy doing what needs to be done to protect our future from the fallout we're already experiencing and the rest that's coming by creating as secure a situation for ourselves as we can. Just as those facing a tornado, we need to start immediately readying our house, so to speak, battening down the hatches and making sure we have a secure shelter handy. For example, we need to start one-by-one putting the following safeguards in place as quickly as we can, knowing, of course, that we can't do them all at once and must start from where we are:
1. Secure a dependable income. That means having a locally-or-virtually-based career, preferably an independent one, in a trade or service that is resistant to off-shoring, not readily replaced by technology, easily bartered, and requiring as little travel or commuting as possible.
2. Get out of debt post haste and don't acquire any more. We will need to apply every cent we're now doling out in interest payments to making necessary changes and safeguards, be they paying the cost of re-training programs, relocating, retro-fitting, launching an independent career, or taking any other of the following steps.
3. Reduce our energy footprint. Scale down the size of our homes and high-maintenance, materialistic lifestyles to minimize the amount of electricity, gasoline, water, and other utilities and commodities we consume. This may involve taking lots of relatively simple steps like fixing breakfast at home instead eating out at the coffee shop or unplugging appliances that perpetually draw electricity even when not in use, as well as undertaking more sweeping changes like relocating, home-sharing, energy retro-fitting our homes, or getting off-grid.
4. Locate if possible in an area with a large and dependable naturally occurring, year-round source of water and as long a local growing season as possible, preferrably in small town, village or well-defined neighborhood with a positive, close-knit sense community. In the future localities will be drawing on their own natural resources and less able to afford to sell and transport their resources elsewhere. We will each need to depend more heavily on the local resources at hand.
5. Learn how to grow food. Since the growing and transport of food will be increasing labor- and cost-intensive, the more we can grow for ourselves in our own backyards, patios, decks and rooftops using natural, energy efficient methods like permaculture, the more secure we will be.
6. Learn how to fix things. As the cost of manufacturing and transporting products and parts made from petroleum and other natural resources rises, the more important it will become for us to personally repair, restore, and maintain what we now own.
Taking Action on the Community Level
1. Get active in or help form a relocalization, permaculture, or simplicity group in your area. People in communities like Portland, OR, Bellingham, WA, Willits, CA, and others across the country are actively working in such networks to protect and strengthen their local economies by making them more sustainable. Taking needed action in our personal lives is much easier with the support, ideas and camaraderie of others.
2. Choose one environmentally-related cause you feel strongly about and contribute whatever time and resources you can. There are many national and local organizations devoted to preserving the natural environment. They all need our help. We can't possibly respond to them all, though, so this sometimes leaves us feeling helpless to make a difference. By choosing one to devote time and energy to, we are doing our part.
3. Elect officials at all levels of government who are aware of and have a desire and willingness to:
a) Initiate laws, policies and programs that will help individuals and local, national and global
communities respond intelligently to the changes taking place.
b) Create incentives to help individuals and communities make needed changes to reduce
consumption and increase sustainability.
c) Change laws that prevent and hinder individuals and communities from taking needed
steps to reduce consumption and increase sustainability.
d) When necessary pay for needed changes with tax on commerce that exacerbates and
accelerates environmental problems.
For more concrete examples of intelligent action that can carried out at the national policy level and the consequences of not doing so, see "Five Stages of Collapse" by Dmitri Olov.
Summary

As we become involved day-to-day in taking which ever of these steps we can at the time to safeguard and secure our future, the pent up energy generated from anxiety about the environment and what's happening to our economy gets channeled instead into positive action. We're busy, we're engaged, we're doing what we can, we're involved with others who share and understand our concerns. Our feelings begin to shift from dis-ease to confidence and enthusiasm for the possibilities that lie ahead.

This article has been slightly modified from the original, found here.
About the Author
Sarah Anne Edwards, PhD, LCSW, is an ecopsychologist and author of the recently released book Middle-Class Lifeboat, Careers and Life Choices for Navigating a Changing Economy and Director of the Pine Mountain Institute, offering online CEU programs for helping professionals working to meet psychological, spiritual, and practical needs of those adjusting to manmade environmental changes and their economic consequences.