Sam Guarnaccia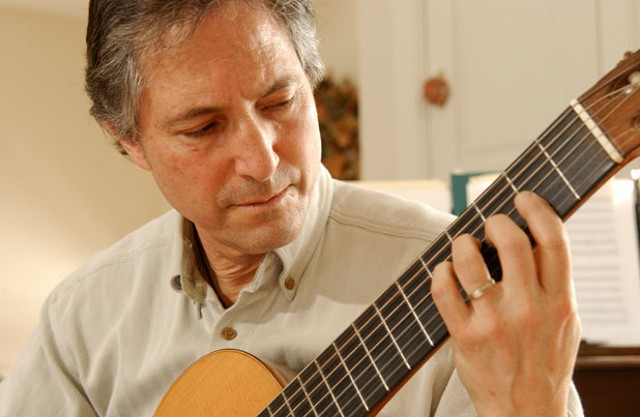 Sam Guarnaccia is a composer, performer, scholar, and founder/director of Sam Guarnaccia Music (SGM) www.sam guarnaccia.com.
A classical guitarist, he studied privately, at the Royal Conservatory of Madrid, the North Carolina School of the Arts, and received a Master of Fine Arts from the California Institute of the Arts. He created, and for ten years taught and directed the guitar program of the University of Denver's renowned Lamont School of Music.
He has also taught and instituted programs at Middlebury College and the University of Vermont, as Spanish scholar, performer, and composer. His cycle of nine peace songs has been incorporated into a children's peace education curriculum. His work, A Celtic Mass for Peace, Songs for the Earth, a collaboration with Celtic Spirituality scholar, writer, and teacher, John Philip Newell, has been performed all over the United States, Iona and Edinburgh, Scotland, and was featured in a major Peace celebration on the 10th anniversary of 9/11 on September 11, 2011, in New York and in Vermont.
His most recent major work, the Emergent Universe Oratorio, first performed in Shelburne, Vermont in 2013, had its world premiere with new libretto and full orchestra in Cleveland in June 2017. It was also performed by the Mainline Symphony Orchestra and Chorus at Villanova University in July 2018 at the International Big History Association World Conference. With creative partner/producer Paula Guarnaccia, a performance is now being planned with the Albany Pro Musica, at RPI Experimental Media Performing Arts Center in Troy, New York for March, 2023. New work in progress: Threshold Trilogy, for orchestra with chorus/soloists without words: voices of the Other-Than-Human world. (SGM) www.sam guarnaccia.com.
Article
Everyone who breathes air, drinks water, takes in nourishment from the land, marvels at the moon, sun, and stars, and is conscious of being energized by wondrous processes that evolved over billions of years is an Ecozoan.
Mixed Media
All wealth is derivative of Earth—most of all, values and wisdom. They are among the most recent emergent properties of our Universe's 13.8 billion years of inexpressibly glorious creativity, complexification of matter and energy, and deepening of consciousness.
Music
The EUO was deeply inspired by the work Pierre Teilhard de Chardin, Thomas Berry, Brian Swimme, and Mary Evelyn Tucker and John Grim from the Forum on Religion and Ecology at Yale University. These seminal thinkers have endeavored to lead us to a new understanding of the place of humans in the Universe.