Sam Guarnaccia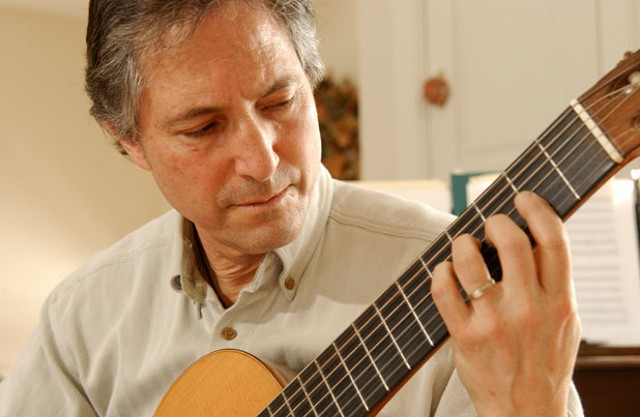 Sam Guarnaccia is a composer, classical guitarist, scholar, and founder/director of Sam Guarnaccia Music (SGM) www.samguarnaccia.com. He studied privately and at the Royal Conservatory of Madrid, and received a Master of Fine Arts in Guitar performance from the California Institute of the Arts. He created and, for ten years, taught and directed the guitar program of the University of Denver's renowned Lamont School of Music. He has also taught and instituted programs at Middlebury College and the University of Vermont, as Spanish scholar, player/performer, and composer with deep ties to the history, struggle, traditions, art, and spirituality of ancient and contemporary Indigenous peoples. His cycle of nine Peace songs has been incorporated into Peace education curriculum for young children.
His composition, A Celtic Mass for Peace, Songs for the Earth, a collaboration with Celtic Spirituality scholar, writer, and teacher, John Philip Newell, has been performed throughout the United States; Iona and Edinburgh, Scotland; and was featured in a major peace celebration on the 10th anniversary of 9/11 on September 11, 2011, in New York, and in Vermont. There were two performances near NYC on February 19th, 2012.
Inspired by the work of the Earth Charter and its integrative principles of ecological integrity, social justice, economic justice and peace, Sam Guarnaccia and his core artistic collaborators helped produce, with others, the 2002 Peace Summit at the University of Vermont. Earth Charter Commissioner Stephen C. Rockefeller, along with Senator Bernard Sanders and Congressman Dennis Kucinich, participated in the event.
Direct correspondence with Wendell Berry, Joanna Macy, Mary Evelyn Tucker, Brian Swimme, and Bill McKibben led to permission to use their writings, and the poetry of Rainer Maria Rilke, in creating the Emergent Universe Oratorio (EUO) libretto. The EUO libretto was inspired by the film Journey of the Universe, by Mary Evelyn Tucker and Brian Swimme, and was first performed in the Great Breeding Barn at Shelburne Farms, Vermont, in September of 2013.
A World Premiere performance of the fully orchestrated EUO took place in Cleveland, Ohio, on June 30, 2017, at the Milton and Tamar Maltz Performing Arts Center at the Temple–Tifereth Israel.
Mixed Media
All wealth is derivative of Earth—most of all, values and wisdom. They are among the most recent emergent properties of our Universe's 13.8 billion years of inexpressibly glorious creativity, complexification of matter and energy, and deepening of consciousness.
Music
The EUO was deeply inspired by the work Pierre Teilhard de Chardin, Thomas Berry, Brian Swimme, and Mary Evelyn Tucker and John Grim from the Forum on Religion and Ecology at Yale University. These seminal thinkers have endeavored to lead us to a new understanding of the place of humans in the Universe.