Jahnavi Pandya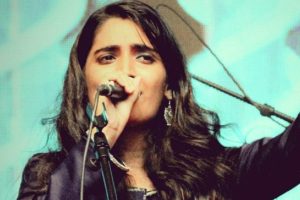 Jahnavi Pandya is a Psychologist with a specialization in counseling and holds the National Eligibility Test Qualification for Assistant Professorship by University Grants Commission, Ministry of Education, India.
She has been a national award-winning archer, singer, musician, composer, YouTuber, and social worker. She was awarded the 'Nari Ratna' (Jewel among Women) by Gujarat Chief Minister's wife A. V. Rupani. She received her MA in Counseling Psychology from SNDT University, and BA in Psychology from St Xavier's College Mumbai, with the title of 'Student of the Year' (across all disciplines).
For the last 12 years she has been working on suicide awareness with her father Pallav Pandya. She voluntarily helps 31 orphan girls, and in two years has collected over six lakh rupees (nine thousand dollars) through crowdfunding done through Facebook and other social media sources. She has also reached to over 1,000,000 students helping them deal with board exam stress through her YouTube channel – Jahnavi Pandya.
She has conducted seminars in over 60 schools in India, reaching out to over 50,000 students. Her notable work includes counseling and rehabilitating the children in conflict with the law at Asia's largest Juvenile Observation Home in Dongri, with Prayaas by motivating them to study, counseling their parents, and help give them a better environment to reduce crime. Her experience also extends to reaching out to a more diverse population, including children with terminal illnesses, caregivers, street children, abandoned old people, and people in distress. Her vast experience at a young age makes her a well-acclaimed counselor among a diverse group of people.
She has adapted the 5,000-year-old Indian scriptural text, Bhagavad Gita, into English with rhyming verses. She then composed the verses into Indo-Western tunes so the text would appeal to today's youth.
In July 2018, she was invited to give a presentation at Villanova University, Philadelphia for the Big History Conference, which is a project endorsed by Bill Gates. She is also working on transcribing the work of Vedas and its connection with the Big History, with Padma Shri Dr. Sudarshan and Prof. Barry Rodrigue, and is also the youngest committee member of the Asian Big History Association.
Mixed Media
Music activates certain parts of your brain which are also related to your decision-making. Music helps to be more creative, especially when you improvise.