Kendra Smith | The Disappearing Art of Living
from 'Early recordings' (1989)
from Opal -Early Recordings, features a young Kendra Smith and David Roback frolicking on the beach.
Kendra Smith presents The Guild Of Temporal Adventurers 1992
DREAM SYNDICATE with KENDRA SMITH | "Too Little, Too Late" 12/16/17
If you've never heard of Kendra Smith no one would be surprised, but listening to her enduring music from decades ago, you cannot help but to feel the reverence in Kendra's lyrics, be captivated by her haunting melodies and lulled by soothing drowsy tempos. Her music remains a fresh, timeless, psychedelically tinged trip.
As a reclusive artist, she's a mysterious figure, revered, mythologized, and missed with a fervor that most artists would marvel at.  
She began making music in 1979 as a bass player in a short lived punk outfit called The Suspects, quickly moving on to form a new band in 1981 called The Dream Syndicate. Their brand of infectious jangle rock immediately caught the ear of record labels and positioned them at the epicenter of a west coast music scene known as The Paisley Underground. Just as the accolades began, Kendra Smith abruptly left the band. In 1985 she re-emerged with Dave Roback, former frontman for another Paisley underground group, The Rain Parade.  Initially calling themselves Clay Allison, they eventually settled on the name Opal. The album, Opal –  Early Recordings, is a shining example of Kendra's artistic scope and sway with 12 songs that highlighted her emerging artistic sensibilities and song stylings. Songs like 'Strange Delight' 'Fell From The Sun,' 'My Only Friend,' and 'Grains Of Sand' are timeless, haunting and immediately memorable. When it was released, suddenly we had a sense of Kendra Smith as an experimental artist with realms, sounds and instruments to explore.
Early on, during the promotional tour for their brand new full length LP Happy Nightmare, Baby, Kendra had misgivings and creative differences, so again she and the band parted ways. Her next release didn't appear until 1992 and it came in the form of a mini – LP dubbed Kendra Smith Presents The Guild of Temporal Adventurers. It was 6 songs (and 3 brief sonic 'interludes') that built on Kendra's dreamy, sense of beauty, mysticism and experimentation. Shimmery songs like 'Iridescence', 'Stars Are In Your Eyes' and the meditative dirge- like 'Earth Same Breath' seemed to pick up where Opal – Early Recordings left off.  It delineated Kendra's power to make her music in her own way and on her own terms just as it marked the time of her near complete disappearance. By 1992 Kendra had left city life and had begun to live more deliberately and simply. The release of her one solo LP called Five Ways of Disappearing in 1995, post-dated her departure. 
Kendra had long since abandoned life in Los Angeles for a remote, off-grid cabin she built in Northern California. She has been there for three decades now, living off of solar power, pumping her water, growing her own food, tending to her dog, cats, and a donkey. 
Late in 2017, surprisingly, she reappeared with The Dream Syndicate for two live shows, singing a song that she had penned the lyrics to. That song is called 'Kendra's Dream.' Perhaps even more surprisingly, last year she was featured on a film soundtrack with a new song called 'Moon Boat', a custom piece she wrote for director Debra Granik. It plays liltingly over the end credits of Debra's film Without A Trace. 
Kendra's voice has deepened, much like Marianne Faithfull's, and these days her lyrics are filled with wonder and awe. In her own words below, Kendra Smith tells us of the deliberations of her daily life and artistic choices.  
---
If you get intimate with a piece of land you get super attached to it's well-being. Part of the culture I experienced here is having this large piece of land, more than 30 acres of wooded hilly stuff and a very small part of that is dedicated to humans, the rest is dedicated to whatever life belongs there – from owls to salamanders to whatever Earth Spirits you might believe live in nature. Old gods retreat to places that are uninhabited so we leave most of it alone except to walk it. It will always have a huge effect on what I think and create along with my isolation which is not complete! I have a circle of friends here but even in the city I was a solitary person. I'm slowly building things up here. I just got my first refrigerator 2 years ago. I lived on 80 watts of DC power for 20 years. There's no hot running water. Everybody says "That must be horrible! It would be easy to change it." Well yeah, it's easy to change but you change one thing, other things change. Not having a refrigerator was no big inconvenience, as I ate mostly out of my garden. I'm getting a bit more open-minded about change but I don't see there's ever going to be a city style house here.
Since 1995 I've gone through periods where I didn't do any music at all. Then I went through a period where I was mostly studying Central Asian and Persian classical music and working with instruments we made here and all along I've had my pump organs which I keep getting more and more of. They're cumbersome obviously. It seems in the last year or so that I've entered a new era in my existence and fate keeps tossing projects in front of me. I said what the hell and then I saw how easy it is now. Technology has changed so much. I love strictly analog music and have friends who have analog studios but now I can set up in my solar powered cabin. I'm just now acquiring the tools. I've got good musicians and we call ourselves The Magician's Orchestra. We've done a lot of stuff some of it on weird found instruments. I believe in keeping it primitive. I'm determined to just use the technology I need.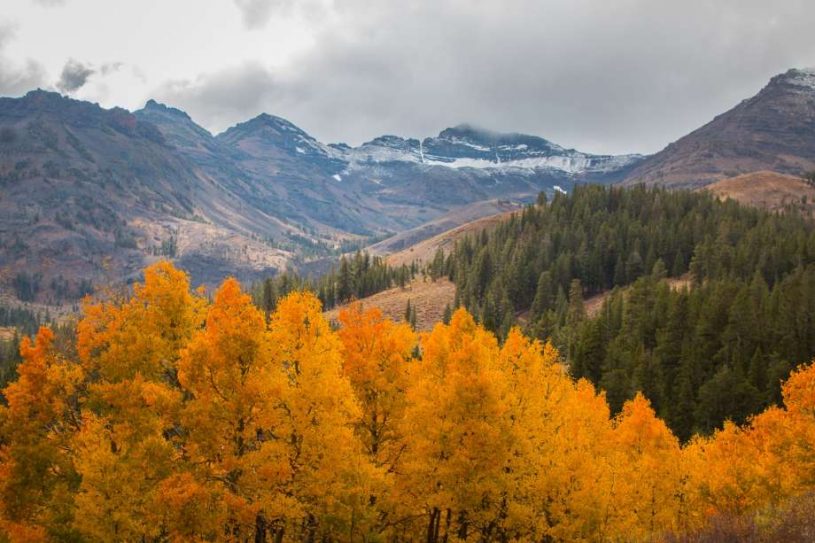 I'm aware that people wonder about me. I'm really happy to see new generations of people who enjoy what I've done. I've always felt that my fan base was very special and dedicated in a strange way, as I'm not everybody's taste. I always consider it an honor that I'm playing for those people who I always assumed are kind of unusual in their own way too.
Reprinted with permission from UNCUT Magazine
Deusner, Stephen. "Catching up with Kendra Smith", Oct. 2017: 83. Print
It's a beautiful dream… Kendra returns to the stage with The Dream Syndicate, El Rey Theater, LA, 12/15/2017 – photo © Deb Frazen
---
MOON BOAT | Kendra Smith, The Magician's Orchestra
I wandered this world green and wild
and the things in my mind are
like a red sun go down.
Oh and I, I know you must go.
And I think I know why…
but I don't know why.
Still I am thinking we both share a moon and a star.
May you be safe, may we both find a place with a heart.
Here, where treasures a-bound
in the things I have found, a leaf, a song come from a-bove…
In the wood, where secrets crawl
the Earth so small, a place, a home, a dream my own…
There'll be a tree that joins you and me from a-far.
And I am certain we all share a moon and a star
KENDRA'S DREAM | The Dream Syndicate feat. Kendra Smith
…Like a memory of music fled
I see three giants mount the hill.
They first reveal their massive heads
then stride as kings before me still.
In frozen awe I watch them near;
A stag
An ox
And rampant bear.
Find the others
meeting there.
Creature guise in
dreamer's lair.
Where Dreamers dream a
dream of dreaming.
Rewrite a fate of
random weaving.
And bright self dreams with
every breathing.
I keep having the same dream.
I keep having the same dream.
It's a beautiful dream