Riane Eisler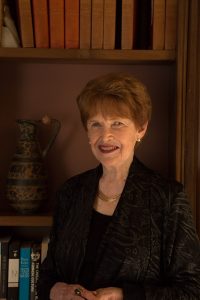 Riane Eisler, JD is President of the Center for Partnership Studies and internationally known as a systems scientist, attorney working for the human rights of women and children. She is the author of groundbreaking books including The Chalice and the Blade: Our History, Our Future, now in 27 foreign editions, and The Real Wealth of Nations: Creating a Caring Economics. Dr. Eisler has received many honors, including honorary PhDs and peace and human rights awards. She lectures worldwide, with venues including the United Nations General Assembly, the U.S. Department of State, Congressional briefings, universities, corporations, conference keynotes, and events hosted by heads of State. For more, visit rianeeiesler.com.
Journal Article
Despite core teachings of love and nonviolence, in both Eastern and Western scriptures, story after story and commandment after commandment idealize the infliction or suffering of pain.
News Item
By Riane Eisler
I have been asked to tell you about the findings from my research identifying the core components of a safer, more equitable, and caring world—especially one where women and children are finally safe—a goal that is very close to my heart. In doing so, I will place violence against women and children in its larger social and historical context, and, most importantly, explore with you how to bring about fundamental change—not only in the prevailing worldview, but in our lives and our world.