Valerie Brown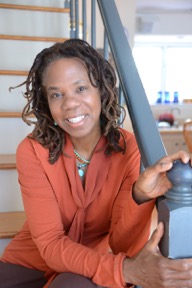 When Valerie passed the Bar exam in 1983, she had no intention of practicing mindfulness. She had two goals: make money and get out of Brooklyn (which was not the swanky place it is today).
In 1995, she attended a retreat with Thich Nhat Hanh, the monk, poet and peace activist, and this changed her life. Stumblingly and slowly, in a process that was messy and unpredictable, she left a twenty-year career as an attorney-lobbyist, representing large nonprofits and educational institutions.
Valerie's journey toward wholeness required engaging enduring vulnerabilities, facing fear and doubt, risking failure, asking for support, creating space for reflection and action, re-defining success, and finally letting go of a full-time job that paid the bills, but no longer aligned with her core values. In finding her 'True North', Valerie consistently asked herself: "What is my heart attracted to?" "What is here now?" "How shall I live this moment?"
Valerie's commitment and passion is rooted in her belief that mindful awareness is the foundation for happiness and understanding, supporting more resilient leaders, peaceful schools, and healthier workplaces. Her inter-disciplinary background and blending career paths position her to work with a diversity of organizations and people.
Valerie holds a Juris Doctorate and Masters of Arts, and is accredited through the International Coaching Federation. She has completed several national level trainings that support her study, practice, and teaching of mindfulness. These include the Center for Courage & Renewal with educator Parker J. Palmer, the Center for Transformational Leadership at Georgetown University, and the Center for Mindfulness in Medicine, Health Care, and Society, as well as the Ojai Foundation's Council 1 Training. In 2003, she was ordained in the Tiep Hien Order by Thich Nhat Hanh.
As a certified Kundalini yoga teacher (with more than 500 hours of training), she engages the wisdom of the mind-body connection to support vibrant, healthy leaders and teams.
She explores the role of mindfulness in strengthening thriving leaders and building greater understanding and peace within schools in her book, The Mindful School Leader: Practices to Transform Your Leadership and School (Corwin Press 2015), co-authored with her friend and colleague Kirsten Olson. Valerie shares her global vision of a society that is interconnected through mindful awareness and compassionate action in her book on mindfulness, transformation, and travel, The Road that Teaches: Lessons in Transformation through Travel (QuakerBridge Media 2012). Her essay on mindfulness and people of color appeared in Thich Nhat Hanh's Together We Are One. A popular writer in Pendle Hill's pamphlet series, she has authored these titles on mindfulness: The Mindful Quaker (2007), Living from the Center (2010), and Heartfulness: Renewing Heart, Mind and Spirit on Retreat and Beyond (2013).
Valerie is a Quaker and member of Solebury Monthly Meeting (PA) and is a volunteer with Right Sharing of World Resources, a Quaker micro-credit organization; Mercer Street Friends, helping families in New Jersey make the journey out of poverty; and Big Brothers, Big Sisters. When not traveling nationally or internationally to lead retreats or speak on mindfulness and leadership, she lives in a converted barn with her husband John Strachan, in the funky artist village of New Hope, PA, midway between Manhattan and Philadelphia. She firmly believes that ice cream and carousel rides will save the world!
Journal Article
Slowly, making my way along the rutted dirt path, I reached the top of the mesa, set down my backpack, leaned against a nearby log, and looked up at the sky and clouds. In that moment, everything changed.
News Item
Hosted by Tamara Hamilton
"Very often a pilgrimage is referred to as a thin place. A thin place, meaning that the distance between the material world and the spiritual world is very narrow, so the Camino de Santiago is the quintessential thin place. When one walks that pilgrimage, you just feel the spirit of a thousand years of people who have also walked that path, and that's a very, very powerful experience." – Valerie Brown
Article
It was a long day on El Camino, The Way of Saint James, the famed thousand-year old pilgrimage route across […]