Tamara S. Hamilton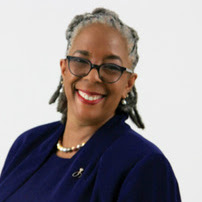 Tamara Smiley Hamilton MA, is a professional speaker dedicated to giving voice to the voiceless. She is the CEO of Audacious Coaching LLC and facilitates workplace conversations on conflict, race and implicit bias.
Tamara has taught courses in race relations at Loyola Marymount University and served as assistant dean of students at Occidental College. From 1985-91, she lived with her family in the Rhineland Phalz region of Germany to experience life as an immigrant. That experience helped shape her as a citizen of the world, a dream her father espoused since the day she was born in segregated Montgomery, Alabama.
A lifelong learner, she is a graduate of Scripps College, Howard University and the University of Southern California. In 2017, she returned to higher education to study race, conflict and peace at the School for Conflict Analysis and Resolution at George Mason University. She is the 2017 recipient of the James H. Laue Scholarship Endowment in recognition of her contributions to human and civil rights.
Her coming of age story, Diary of a Watts Princess: A Memoir of Hopes and Dreams, is published in Kosmos Journal.
Journal Article
At the fragile age of 12, Ulysses Slaughter listened as his mother Clarice was shot to death by his father Ulysses Grant Slaughter Sr. Emerging from his bedroom, he watched as life flowed out of his mother. Stepping over her body that day was the first act in his amazing odyssey toward forgiveness.
News Item
Hosted by Tamara Hamilton
"Very often a pilgrimage is referred to as a thin place. A thin place, meaning that the distance between the material world and the spiritual world is very narrow, so the Camino de Santiago is the quintessential thin place. When one walks that pilgrimage, you just feel the spirit of a thousand years of people who have also walked that path, and that's a very, very powerful experience." – Valerie Brown
Article
I love my father so much that if someone asked me "how much?" I couldn't explain it. I feel about […]