Pat McCabe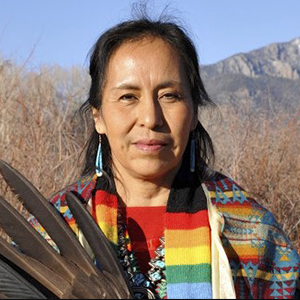 "Woman Stands Shining" Pat McCabe, has the honour of being of the Dine (Navajo) Nation. She brings the understanding of Indigenous ways of knowing into discussion and inquiry on Sustainability. She carries the foundation of Beauty and Spirit into places where it has been kept out. Pat is an active participant in Indigenous Peoples gatherings worldwide including Chile, Belgium, Ecuador, Peru, Mexico and Bali. She has worked with the International Center for Cultural Studies in India and with Sarvodaya with Dr. A.T. Ariyaratne in Sri Lanka, as well as with organizations and gatherings in the U.S. She has been a cultural consultant to the Pachamama Alliance, presenting at the 2013and 2014 National Bioneers Conference, and presenting on "The Feminine Design and Sustainability" in the U.S. and Internationally.
Conversation
I think if we're going to make it, we're going to have to step up consciously. We're going to either choose it or we're going to lose it. – Duane Elgin
Conversation
What is the Great Turning? It's the turning away from our self-destruction toward a new era of human dignity, racial justice, environmental restoration, and peace within and peace without. – Craig Schindler
Conversation
Pat McCabe | As women, I see us as the relational glue, the relational builders, so I need to get it really straight in my own mind and heart from what ethic will I address these pressures and potential conflicts around water.