Mattie Porte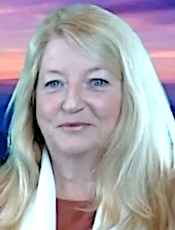 Mattie holds a degree in Psychology and is trained in alternative energy medicine as well as spiritual and personal development. She has over 20 years experience in spiritual and personal development education and mentoring at Findhorn Ecovillage, where she currently resides. During that time she directed and produced her first feature-length documentary film – An Enquiry into a New Story for Humanity: Change the Story, Change the World. She has specifically been designing and delivering innovative and pioneering educational workshops and, in most recent years, has become practised/proficient in the art of online delivery.
Mattie also has over 20 years previous experience in the business world as a self-employed consultant in both the public and private sector.
She is a lifelong student of Eastern and Western spiritual and mystical traditions: Holism, Buddhism, Taoism, Sufism, Hinduism, Shamanism, Christianity, Celtic Wisdom. Her focus is spiritual awakening and the evolution of human consciousness from an integrated scientific and esoteric point of view. She is passionate about the potential in moving from our current paradigm of separation and fear to an emerging paradigm of unity and wholeness.
Journal Article
I think if we're going to make it, we're going to have to step up consciously. We're going to either choose it or we're going to lose it. – Duane Elgin
Journal Article
What is the Great Turning? It's the turning away from our self-destruction toward a new era of human dignity, racial justice, environmental restoration, and peace within and peace without. – Craig Schindler