Leigh J McCloskey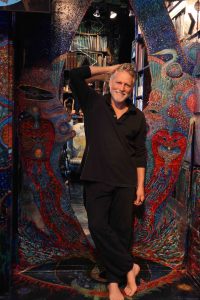 Leigh J McCloskey is a modern Renaissance man; he is an artist, author, well-known actor and visual philosopher. His highly creative life has been devoted to exploring the symbolical, archetypal and hidden aspects of the psyche and inner self through his art, scholarship, books and experiences as a professional actor for many years. He has hosted weekly discussion groups in his home, Olandar, for over 39 years. His deep knowledge ranges from arcane wisdom, religion, depth psychology and quantum physics to the mythic imagination and the creation of art. He is the founder of Olandar Foundation for Emerging Renaissance (OFFER) and gives regular tours of his art and home, Olandar
Leigh lectures both nationally and internationally and has given numerous talks and presentations of his art and visual philosophy. Many are available on youtube. He has contributed numerous essays on topics ranging from William Blake and the Heroic Imagination, the Archetypal Tarot & the Kabbalah, to Jacob Boehme and Theosophical Thought. He has written, illustrated and published seven books, including his masterpiece of art and writing, Tarot ReVisioned, reviewed as possibly the most significant contribution the tradition in over 100 years.
https://leighmccloskey.com/
https://en.wikipedia.org/wiki/Leigh_McCloskey
https://www.youtube.com/user/leighjmccloskey
Feature in Sanctuary Magazine
Journal Article
The archetypal philosophy of Tarot ReVisioned creates the intellectual and creative tools necessary to move human consciousness beyond a model of self as psychologically limited or religiously incomplete. It establishes links with perennial wisdom, tradition, history and humanity's multidimensional origins and creative adventure through worlds of time and space.
Journal Article
A new world mind is growing, like so many blades of grass through the concrete of human tyrannies old and new. The post 9-11 world is proving that it cannot solve its problems and so we must begin to plant seeds of creative possibility for future generations.