Jay Walljasper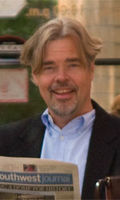 Jay Walljasper is an award-winning writer
who has reported on a wide range of topics from urban issues and
sustainability to music and travel. He is the author of the What We Share: A Field Guide to the Commons (2010), The Great Neighborhood Book (2007), and Visionaries: People and Ideas to Change Your Life (2001). His freelance writing can be read in publications such as Shambhala Sun, Ode, Mother Jones, YES!, Utne Reader and National Geographic Traveler.
Jay speaks internationally to academic, business and citizen groups. He
has written the annual report for Friends of the Mississippi River, a
Rockefeller Foundation-funded report on the Coalition for Livable Future
in Portland and the annual essay for the Finger Lakes Environmental
Film Festival. He's been deeply involved in developing publicity, media
and publishing efforts for On The Commons and Project for Public Spaces.
Article
The term may be unfamiliar, but the idea has been around for centuries. The commons is a new use of an old word, meaning "what we share"—and it offers fresh hope for a saner, safer, more enjoyable future. The commons refers to a wealth of valuable assets that belong to everyone. These range from clean air to wildlife preserves; from the judicial system to the Internet. Some are bestowed to us by nature; others are the product of cooperative human creativity. Certain elements of the commons are entirely new—think of Wikipedia. Others are centuries old—like colorful words and phrases from all the world's languages. Anyone can use the commons, so long as there is enough left for everyone else. This is why finite commons, such as natural resources, must be sustainably and equitably managed.