Jane Hughes Gignoux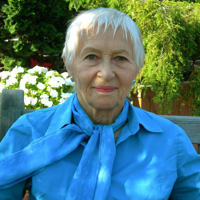 Jane Hughes Gignoux, a native New Yorker, is the author of Some Folk Say: Stories of Life, Death, and Beyond, a collection of stories, myths and poems from cultures around the world and throughout time, with commentary and original color illustrations. She gives workshops, "Embracing Life, Death and Beyond," and "Visions and Stories for the Afterlife: Remapping the Journey" based on the material in her book for those interested in exploring end-of-life issues.
In addition, she has developed a seminar course: "Exploring Afterlife Stories and Beliefs" that allows people to examine in greater depth the ways in which these stories can affect current attitudes and behavior.
Ms. Gignoux has a background in theater with a BA in Theater from Smith College. She has been on the faculty of Wheaton College, Norton, MA, St. Mary's School, Peekskill, NY, and the New York Open Center. She has spent the last twenty-five years studying healing and consciousness in many forms. She has helped found and participated in a number of on-going leaderless dialogue groups including Taking a Next Step Towards Better Understanding Among Jews, Christians and Muslims; Women In the Workplace; Community Building; and Creative Personal Interactions.
She was an advisor for the Viewer's Discussion Guide accompanying the PBS series that aired in September of 2000 – On Our Own Terms: Moyers on Dying. Her book, Some Folk Say, is listed as a resource in that Guide. An active member of the local as well as the national Outreach Steering Committee for On Our Own Terms, she co-created and facilitated a leadership workshop at WNET, NYC. She facilitated the first in a series of four programs at the New York Public Library in the Fall of 2000 designed to enhance the Moyers series.
Gignoux has a private practice in Stress Management counseling and since 1987 has been a volunteer play therapist with the HIV pediatric patients at Harlem Hospital. She is past president of the Friends of the Institute of Noetic Sciences (FIONS), whose mission is "to explore our growing awareness of consciousness and emerging spirituality in shared inquiry, furthering individual wholeness and global vision."
A whitewater canoeist and sailor, Gignoux has four children and five grandchildren.