Fernando M. Reimers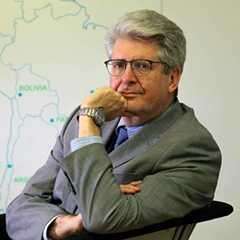 Fernando M. Reimers is Ford Foundation Professor of Practice in International Education
Faculty Director, International Education Policy at the Harvard Graduate School of Education. He studies and teaches about innovative education policies and programs that help students develop competencies necessary for civic participation, work and life in the 21st century. He also works in the area of global citizenship education and in how to align education policies with the achievement of the Sustainable Development Goals of the United Nations.
Reimers teaches a graduate course that examines the core global education challenges and the role of policy analysis in addressing them, and a course on educational innovation that supports social entrepreneurs in generating and scaling up programs that enhance the relevance of education to the challenges of our times. He chairs an annual Think Tank on Global Education, a Professional Education program that examines state of the art practices and programs to help students gain global competency.
He also directs the Global Education Innovation Initiative, a cross-national effort to support the improvement of public education towards greater relevance in helping students develop the cognitive and socio-emotional competencies essential to thrive in the 21st century.
Publications and more information about his academic work is available on his personal website. With his graduate students, Reimers has developed various innovative K-12 curriculum resources designed to developed competencies aligned with the United Nations Sustainable Development goals. He also writes a series of children's books to foster intergenerational conversations about inclusive values.
Reimers is a member of the Massachusetts Board of Higher Education, and a fellow of the International Academy of Education. He chairs the board of World Teach, and serves on the boards of Facing History and Ourselves, Teach for All, and other educational organizations.
Journal Article
Global competencies encompass the knowledge, skills, and dispositions that help students develop, understand, and function in communities which are increasingly interdependent with other communities around the world.