Amber Chand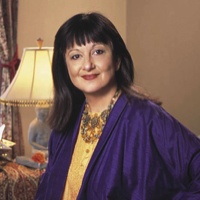 Visionary leader, social entrepreneur, gifted writer and inspirational speaker, Amber Chand is a global woman with roots in India, Africa, Europe and America. Her mission to celebrate women as a force for peace and prosperity has shaped her compassionate global voice.
From the moment her family fled Uganda under the threats of execution by dictator Idi Amin, she has chosen to step into her life with optimism and purpose. The understanding that even in the midst of terrible misfortune one can heal and find meaning has inspired her commitment to serve women facing some of the world's most challenging injustices. Amber's dramatic childhood and conscious choice to live from the heart lit the way to her courageous work in places such as Afghanistan, Darfur, Iraq, Israel and Palestine.

As a visionary entrepreneur, Amber has launched enterprises that are founded on the feminine principles of compassionate commerce and women's empowerment. Today, she is both the Founder of the Women's Peace Collection and Co-Founder of Prosperity Candle, two social enterprises that offer an international market and support resilient and courageous women artisan-entrepreneurs from areas devastated by conflict and natural disasters, including Afghanistan, Rwanda and Haiti. Through these enterprises, Amber seeks to give women around the world the opportunity to not only survive, but thrive.

She has recently launched Global Journeys, a transformative 12-day journey to the foothills of the Himalayas in Northern India that offers American women the unique opportunity to celebrate the global feminine through the lens of India's women. Her next trip will be in October 2012.

Amber has been inducted into the Business Women's Hall of Fame, Bay path College, Massachusetts; voted Entrepreneur of the Month by Inc Magazine ; and had her Rwanda Journals published in Marie Claire Magazine. She has appeared in various media including CNN, NPR and the Herald Tribune. Amber lives in the Berkshires in Massachusetts.

To learn more about her work, please visit www.amberchand.com, www.womenspeacecollection.com, and www.prosperitycandle.com or email her at achand108@yahoo.com.
Article
The journey began with a dream.
In it I am running away from a burning city, clutching a candle, looking back, wanting to desperately return to what was once familiar, safe and comfortable. But I cannot. As I run, I come to the edge of a cliff. Too terrified to jump, I find myself gently pushed off by an unseen hand, spiraling slowly through the air and—in slow motion—landing on a soft grassy knoll. A voice speaks to me from the depths of my awareness. "Amber, you have arrived in a new kingdom. Here the rules are different. Here we live and breathe from a place of love. The old kingdom you came from burned from fear and greed."