Alfredo Sfeir-Younis (Dzambling Cho Tab Khen)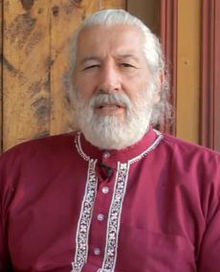 Alfredo Sfeir-Younis, candidate for President of Chile, 2014, is a Chilean economist, spiritual leader and healer, Founder and President of the Zambuling Institute for Human Transformation. He retired after 29 years of service from the World Bank where he was the focal point for human rights. His last position was Senior Advisor to the managing directors, and the Institutional Focal Point on human rights. He developed a new paradigm based on the linkages between spirituality and economics and on the role that values play in decision-making processes, both nationally and globally. Previous to this position, from 1999 to 2003, he was the Director of the World Bank Office in Geneva, Switzerland, and the Special Representative to the United Nations and the World Trade Organization and, from 1996 to 1999, he was the World Bank Special Representative at the United Nations in New York. He regularly participated at the Commission of Human Rights as well as many international meetings on issues related to trade, globalization, indigenous rights, poverty, women and justice both in New York and Geneva.
Alfredo has received numerous awards from international organizations, including the Lifetime Ambassador of Peace (2001), Peace and Tolerance Award (2002), World Healer Award (2002), Messenger of Peace (2002), Peace, Mercy and Tolerance Award (2003), Supreme Advisor of the Buddhist Spiritual Forum Award, World Peace Mercy and Tolerance Award (2004), Diamond Peace Award (2005), and Peace Ambassador Award (2006).
Recognized as a healer and spiritual authority by many masters from different faiths, Alfredo publishes and lectures worldwide on spirituality and global issues. He serves on the Advisory Board of Kosmos Journal.