Shelter

This, at least, we share
with the inhabitants
of cell and cilia,
multiple invisibles of dust
and with those earliest of teachers
in den and burrow,
nest and tunnel,
hive and hollow tree.
From them, we learned
geometries of roof and wall,
the weaving of dry grasses,
tension strengths of mud and clay.
Let me bring the story forward
to these four rooms, white walls,
a breadth of windows
keeping out a morning rain,
allowing in the late fall light.
And back to that progenitor
of architects whose eye
once lighting on a beaver's lodge,
seeing craft and ingenuity,
provides me now
a place to write. To him,
today I offer up this note of thanks.
No Dominion

A woman sits on the ground leaning against a pine…
The pine she leans against says: Listen. There's something you need to hear.
––Richard Powers, The Overstory.
There are ways and ways of listening:
skin to bark,
vertebrae to xylem.
Water-bearer,
chalice and alchemist,
light's photons,
earth's nutrients
made visible, protector
in need of protection
from life-forms smaller,
wilier than myself,
a householder
defenseless against
the passages of fire-storm
and winds.
Not to be denied,
charred and broken,
I leave a casque,
generation, legacy,
the seed retelling
my story, tribal memory
in the emerging leaf,
the searching root.
Jacob's Pillow: Variations

…………………………………………….I
By chance,
the stone where Jacob lay his head
was an elder of its tribe;
presence was its strength.
Earthbound,
it knew nothing of dreams
or ascension,
of possession even less;
The ladder? Transient as a web
from stone's cleft brow
to tangled grasses, angels
the rustling of restless birds.
He woke,
believing he had come home.
The stone bore his weight,
absorbed the tremors
of his voice,
knowing no story but its own.
They pass, it said.
We stay.
…………………………………………….II
In its eons-long sleep,
the chosen stone, like its brothers,
dreams of seeding the fields,
of growth, of flight,
rising up.
Through bone and follicle,
nerve-ends, cells,
he hears them.
Waking, claims the dream.
About the Author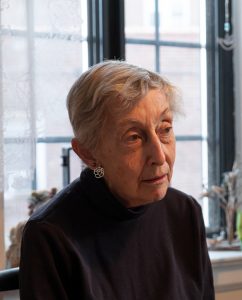 Marjorie Mir is a retired children's librarian whose work has appeared most often in Atlanta Review and the online journal, Eclectica. She received two awards from Atlanta Review: first prize in their annual contest and later, a Merit Award. She served as poetry editor for the newsletter, Monhegan Commons, and edited an anthology of poems from that site. She lives in Bronxville, New York, with Mocha, a recently adopted shelter cat.