Suzanne Fowle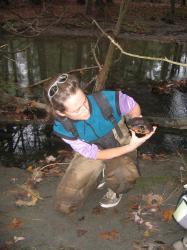 Suzanne Fowle lives in Housatonic, Massachusetts, a small village named for the river that runs through it. She has also lived along the Clark Fork in Missoula, Montana, the James (North Dakota), the Potomac (Washington, DC), and she grew up in the floodplain of the East and Hudson Rivers, in New York City. Suzanne is a wildlife biologist, specializing in reptiles, amphibians, ecological restoration, and her two children.
Photo | courtesy The Berkshire Edge
Journal Article
The ongoing creation of River Walk also speaks to the human element. It marks the confluence of ecological renewal, environmental and social justice, the underpinnings of the industrial revolution, and the vitality of a downtown.