Steven Kull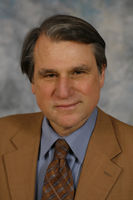 Steven Kull, PhD is a political psychologist who studies world public
opinion on international issues. He is the Director of the Program on
International Policy Attitudes (PIPA) and the Center on Policy Attitudes
(COPA). He conducts ongoing surveys of the US public and plays a
central role in the BBC World Service Poll of global opinion. His
articles have appeared in Political Science Quarterly, Foreign Policy,
Public Opinion Quarterly, Harpers, The Washington Post and other
publications. He is the co-author with I.M. Destler of Misreading the Public: The Myth of a New Isolationism
(1999). He regularly appears in the US and international media and
gives briefings for the US Congress, the State Department, NATO, the UN
and the EC. He is a faculty member of the School of Public Affairs at
the University of Maryland and a member of the Council on Foreign
Relations.
Article
When we look at world conditions and project current trends into the future we see much that is disturbing—environmental degradation, the proliferation of nuclear weapons, persisting poverty and injustice, violent conflict, the fiscal collapse of democratic governments. The institutions that have the greatest power—nation states, corporations, and organized interest groups—seem locked in patterns of self-interested behavior such that the necessary changes are hard to imagine.