Sheila Watt-Cloutier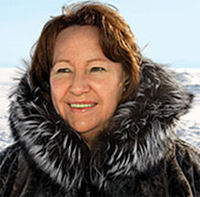 Sheila Watt-Cloutier was born in Kuujjuaq, Northern Quebec, Canada on 2
December 1953. Her mother, Daisy Watt (1921-2002) was one of Kuujjuaq's
best-known elders and was recognized throughout Nunavik for her skills
as a healer, interpreter and musician. Her brother, politician Charlie
Watt, was appointed to the Canadian Senate in 1983 and was made an
Officer of the Order of Quebec in 1984. Watt-Cloutier was sent at the
age of 10 to Nova Scotia and Churchill, Manitoba for schooling. At
McGill University in Montreal, she took counseling courses as well as
occupational and training sessions dealing with education and human
development. In the mid-1970s, she worked as an Inuktitut interpreter
for the Ungava Hospital and worked to improve health conditions and
education in Nunavik over the next 15 years. From 1991-95, she worked
extensively as an advisor in a review of the education system in
Northern Quebec resulting in the groundbreaking report, "Siatunirmut-
The Pathway to Wisdom" compiled and published by the Nunavik Educational
Task Force in 1992. Watt-Cloutier oversaw the administration of the
Inuit land-claims body established under the James Bay and Northern
Quebec Agreement as Corporate Secretary of Makivik from 1995 to 1998.
She entered politics in 1995. She has two adult children and a grandson.
Her daughter is a well-known traditional Inuit throat-singer,
drum-dancer and singer. Her son is a pilot and the youngest captain ever
employed by Air Inuit. Watt-Cloutier currently resides in Iqaluit,
Nunavut, Canada.