Richard David Hames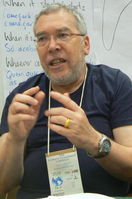 Recently described as one of this century's most insightful philosopher-activists and by Forbes Asia as one of the smartest people on the planet Richard is an influential public intellectual and strategic knowledge designer. He has qualifications in music, medicine and computer science and lives in Bangkok.
Chairman of Wayfinder, Managing Partner in The Hames Group, Founding Director of the Asian Foresight Institute and a Fellow of the World Academy of Arts and Science, Richard works internationally as an adviser to governments and with many of the world's most innovative and entrepreneurial business corporations.
Richard is personal mentor to heads of state, government ministers and company directors across Asia, Africa, the Middle East, Europe and South America. A celebrated speaker and writer, he is also the author of several best-selling books including The Management Myth; Burying the 20th Century; The Five Literacies of Global Leadership; Open Heart – Open Mind; and Heresies.
Article
It is far better to grasp the universe as it really is than to persist in delusion. ~ Carl Sagan […]