Peggy Holman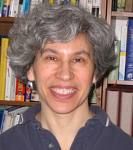 Peggy Holman convenes and hosts conversations that
matter, inviting the diverse people of a system to tackle what is most
important to them. By growing their capacity to bring forth the human
spirit for individual and collective good, Peggy has been honored to
witness organizations and communities unleash energy and wisdom to move
their dreams to action. The vastly expanded second edition of The Change Handbook
(Berrett-Koehler, 2007), co-edited with Tom Devane and Steven Cady, has
been warmly received for aiding people in amplifying resilience,
agility, collaboration, and aliveness in their organizations and
communities.
She has worked with a Swiss-based pharmaceutical company, a
Columbian social service organization, the Israeli Ministry of
Education, and U.S. journalists. Her current inquiry is into how we take
to scale the gifts that the art and practice of process bring to
shifting our collective capacity for living well together.