Michael Vlahos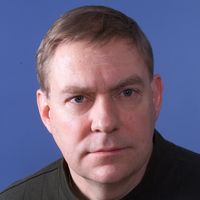 Michael Vlahos, PhD is Professor of Strategy at the United States Naval War College. He is the author of Fighting Identity: Sacred War and World Change,
a 'take no prisoners' analysis of how war—as culture's core ritual—has
shaped national identity in the modern world. Vlahos, a graduate of Yale
and the Fletcher School of Law and Diplomacy, began his career in the
Navy and the CIA.
Dr. Vlahos has broad knowledge and
professional expertise in History, Anthropology, National Security
Studies, and Foreign Policy. In the 1980s he was the Co-Director of
Security Studies at Johns Hopkins SAIS and then the Director of the
State Department's Center for the Study of Foreign Affairs where,
starting from a judgment in 1986, he risked all by declaring in advance
the fall of the Soviet Union. After the fall he became one of the first
Internet pioneers, and in a prescient article in 1997 for Washington Quarterly he forecast how anti-modern non-state groups would use network technologies to attack the world order.
In the 1990s he worked directly with
Congressman Newt Gingrich to imagine creative and different ways to
bring needed new national policies the emerging world of the Internet.
His teaching and research at Johns Hopkins led to the development of a
broad analytic model for examining war and culture, with a primary focus
on how military societies adapt, both to broader change within their
own national cultures, and to the cultural dimension of new operational
environments driven by new enemies. After 2001, this work assumed more
urgency, and Dr. Vlahos has worked with anthropologists and Islamic
Studies specialists to develop a culture-area concept to help the
Defense World better understand and respond operationally to the
changing environment of the Muslim World.
In addition to eight books and monographs, Dr. Vlahos has published a number of articles, which have appeared in Foreign Affairs, Washington Quarterly, The Times Literary Supplement, Foreign Policy, National Review, and Rolling Stone.
He has received best essay awards from the Naval Institute Proceedings,
the Marine Corps Gazette, the Naval War College Review, and the Applied
Physics Laboratory Technical Digest. Dr. Vlahos regularly appears on
Huffington Post, the National Journal, and the John Batchelor radio
program.
A military historian who sees human
conflict through the prism of the anthropologist, Vlahos believes that
the ritual frameworks we cherish – especially sacred war – represent
perhaps our most important window into what it means to be human.
Article
The fall of the Soviet Union initiated a new passage of American identity. Then the 9/11 War took us a long way down the road to journey's end. This passage is also a migration. America has not simply abandoned one collective identity for another; we have become a different people, a different idea.