Mary Davidson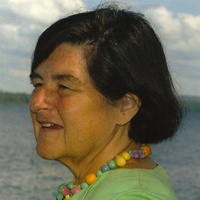 Mary Davidson has a rich history of investment management and holds advanced degrees in Business and History. Employed by The Bank of New York for 25 years, Mary managed stock and bond portfolios, each minimally $1M.
She also has a broad range of experience in education—from classroom teaching to fund-raising and alumni affairs. She travels to Africa frequently to improve the quality of life for those in poverty, especially orphaned children in Kenya. She was honored to be initiated into the Maasai community in the summer of 2009. In addition to serving as a Board member of Kosmos, she is a long-time board member of several other organizations including World Learning.

An avid reader and international traveler, Mary is committed to lifelong learning and her passions include music and theatre.
Article
Sometimes we live with a word for decades and consider that we know exactly what it means, what it refers to and how best to use it. I did not title this article "Philanthropy" because I imagined that readers might turn the page to avoid this conversation. I wonder how many of us know the real meaning of this word.
Article
Several years ago I made a critical decision in my life to leave my comfortable home in the suburbs of New York City and travel to Kenya with an organization called Cross Cultural Thresholds for a five-day work trip in the slums of Nairobi.