Martin Hill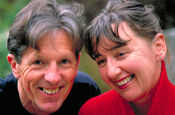 Martin Hill is an internationally recognized communications designer, environmental artist, and photographer.
His design work has won awards and is featured in international galleries.
His environmental sculpture photographs have been published on cards, posters, calendars and books since 1995.
His work has been exhibited internationally and featured in many magazine articles, on television and websites.
"In 1992 I became so concerned about products causing environmental
damage because of their unsustainable design that I turned my focus to
understanding and communicating about solutions to these design issues."
"By creating and publishing environmental art my message of
sustainability by design now reaches millions of people each year."