Lawrence Lessig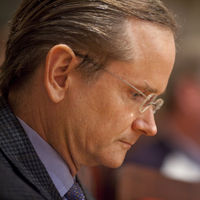 Lawrence Lessig, J.D. is the Director of the Edmond J. Safra Foundation Center for Ethics
and a Professor at Harvard Law School. A strong proponent of the free
culture movement, he is well known for his work in reducing legal
restrictions on copyright, trademark, and radio frequency spectrum,
particularly in technology applications. He founded Stanford
University's Center for Internet and Society. Lessig is a founding board
member of Creative Commons, a board member of the Software Freedom Law
Center, and a former board member of the Electronic Frontier Foundation.
He was named one of Scientific American's Top 50 Visionaries.
Article
Increasingly, I feel like a passenger on a plane watching a pilot flirting with a flight attendant during a thunderstorm. My surgeon seems more concerned about her tee time on the golf course. Half of the drivers around me incessantly talk on their cell phones.