Lawrence B. Brilliant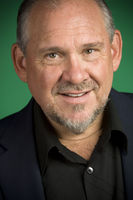 Lawrence Brent Brilliant, M.D., is Executive Director of Google.org,
the umbrella organization for Google's philanthropic activities, where
he works with the company's co-founders — Larry Page and Sergey Brin —
to apply innovation and an estimated billion dollars to make a new
assault on the largest of the world's problems.
A physician and epidemiologist, he has been Associate Professor of
Epidemiology, University of Michigan; Medical officer, WHO SEARO
smallpox eradication team; Founder, Seva Foundation (which has done 2
million free sight restoring eye operations in India and Nepal). He is
the author of two books and dozens of articles on the epidemiology of
smallpox, blindness, and environmental diseases; and he has worked at
city, county, state, federal and international levels.
As a technologist, Larry Brilliant was the cofounder with Stewart
Brand of The Well, an early Internet online community; has served as CEO
of two public technology corporations (SoftNet Systems, Inc. and
Network Technologies); and has been a Director of several non-profit
charities and for profit technology companies.
Dr. Brilliant has recently been written about in publications as
diverse as The New York Times, The Wall Street Journal and the Yoga
Journal and he has appeared on CNN (Paula Zahn), CNBC, MSNBC, and "Power
Lunch" within the past year.
Article
Goleman. I'm here in Silicon Valley with my dear old friend, Larry Brilliant. From my point of view, Larry is […]