Jorge N. Ferrer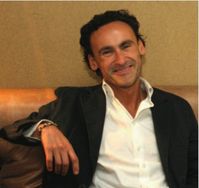 Jorge N. Ferrer, Ph.D. is an associate professor and core faculty in
the East-West Psychology Program at California Institute of Integral
Studies, San Francisco. He has also a degree of Lic. Psicologia Clinica
(1991) from the University of Barcelona (Spain). Formerly a fellow of
"La Caixa" Foundation, a research fellow of the Catalonian Council, and
an ERASMUS scholar at the University of Wales (United Kingdom), he also
teaches as adjunct faculty at the Institute of Transpersonal Psychology,
Palo Alto, California.
Jorge is the author of Revisioning Transpersonal Theory: A Participatory
Vision of Human Spirituality (SUNY Press, 2002), and co-editor of The
Participatory Turn: Spirituality, Mysticism, Religious Studies (SUNY
Press, forthcoming). He is also the author of many articles,
translations, and book chapters on transpersonal studies, and edited a
monographic issue of ReVision on "New Horizons in Contemporary
Spirituality." His writings have appeared in The Journal of
Transpersonal Psychology, The Journal of Transformative Education, World
Futures: The Journal of General Evolution, ReVision: The Journal of
Consciousness and Transformation, The Scientific and Medical Network
Review, The International Journal of Transpersonal Studies, The
Salamander Review, Tricycle: The Buddhist Review, and Tikkun: Politics,
Spirituality, Culture, among other publications. He currently serves on
the editorial board of The Journal of Transpersonal Psychology,
ReVision, Spirituality and Health International, and Journal of Men:
Masculinites and Spirituality.
A leading scholar on "Transformative Practices" and "Integral
Epistemology" at the Esalen Center for Theory and Research California,
he also served as member of the Planning Committee of the Buddhist Peace
Fellowship's BASE (Buddhist Alliance for Social Engagement) and offered
supportive counseling to marginalized Latino women at the center Arriba
Juntos in the Mission district of San Francisco.
He teaches courses on transpersonal studies, embodied spiritual inquiry,
comparative mysticism, integral development, theoretical research,
East-West studies, and spiritual perspectives on sexuality and
relationships, as well as co-facilitates workshops and intensive
retreats on Holistic Sexuality/Holistic Integration at CIIS, the
Institute of Transpersonal Psychology, Palo Alto, and Esalen Institute,
Big Sur. He also offers workshops and presentations on integral
spirituality and education both nationally and internationally. In 2000, Jorge received the Presidential Award from the Fetzer
Institute, Kalamazoo (Michigan) for his seminal work on consciousness
studies and since 2003 he is advisor to the Salamander Fund for the
Advanced Study of Consciousness.