John Raatz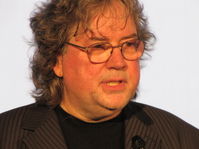 John Räätz is a pioneer in the growing genre of transformational media
and entertainment and the founder of the Global Alliance for
Transformational Entertainment. Over the past 15 years, he has been
involved with the marketing, public relations, distribution and other
business aspects of many groundbreaking films including Mindwalk,
Baraka, Hearts of Darkness, What The Bleep Do We Know!?, Peaceful
Warrior, America: Freedom to Fascism, Illusion and Darshan: The Embrace.
He is the founder and CEO of The Visioneering Group, LLC, a progressive
marketing and strategic public relations firm linking spirit, vision
and values with communication to promote a positive future™.
This
multifaceted group contains a production company that strives to create
community and bring about global transformation through conscious
entertainment, a media network that supports alternative distribution
venues, and educational and PR branches. Räätz is co-founder of the Los
Angeles chapter of the nonprofit International Institute of Film
Financing, and its investment arm, Film Angels, which supports
filmmakers working in the transformational genre. Currently a consultant
on more than 50 films, Räätz is in pre-production on a documentary
called Consciousness Unveiled about non-dual spiritual teachings.
Article
John Räätz is a pioneer in the growing genre of transformational media and entertainment and the founder of the Global […]