Drew Luan Matott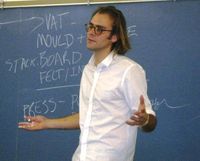 Drew Luan Matott received his MFA in Book and Paper Arts from
Columbia College-Chicago and his BFA in Printmaking from the Buffalo
State College. He co-founded the Green Door Studio, People's Republic of
Paper, the Combat Paper Project, BluSeed Paper Mill and Free Your Mind
Press.
Drew divides his time between teaching at colleges, doing
art residencies and coordinating the Combat Paper Project. He has taught
Photography and Contemporary Printmaking at North Country Community
College and Papermaking courses at the Community College of Vermont and
Massachusetts College of Art. In 2009, he completed an artist residency
at BluSeed Studios in Saranac Lake, NY, followed by a seven-month
international tour, where he taught at the Seagull Foundation for the
Arts in Calcutta, India, completed an artist residency with SKAM in
Hamburg, Germany, lectured at Camberwell College in London, England, and
toured book and paper studios throughout Europe.